Beetroot And Apple Salad

I don't like to repeat myself when cooking for others, which is fine if the clients change a lot. When they don't, I have to constantly rack my brains and read a lot of cookery books to come up with new recipes.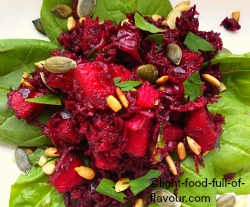 The longest I have ever stayed in one place, cooking for the same people, was when I cooked lunch for an office in London three to four times per week. During the first year, I only repeated a handful of dishes and mostly served a new dish every day.

The one thing I didn't have time to change as much was the salad I served with every meal.I was on my own in the kitchen, cooking for up to 30 people in a limited amount of time.
But what I did do was to match the type of salad I served with the main course I had cooked.

This juicy and full-flavoured beetroot and apple salad can of course be eaten on its own, but it would also go very well with a soup, a vegetarian quiche and lamb burgers to name but a few things.

I wear plastic gloves when working with beetroot (beets) to save my hands from being discoloured.


For 4 people:

2 large raw beetroots (beets), finely grated

100g, 3½oz, 1¼ cup red cabbage, coarsely grated

1 large eating apple, cored and cut into cubes

3 spring onions (scallions), sliced

Small handful of parsley leaves, chopped

1 tablespoon dry-roasted sunflower and pumpkin seeds

100g, 3½oz, 3½ cups, fresh baby spinach


Dressing:

1 garlic clove, crushed

1 tablespoon lemon juice

1 teaspoon runny honey

2 tablespoons olive oil

1. Place the sunflower and pumpkin seeds in a non-stick frying pan and dry-roast them over a moderate heat, stirring every now and then, for about a minute until the seeds start to brown a little. Be careful that they don't burn. Once done, transfer the seeds to a plate and let them cool down.

2. Mix together the ingredients for the dressing. Place the beetroot, cabbage, apple, spring onion (scallion) and parsley in a bowl. Add the dressing to the bowl and mix well.

3. Place the baby spinach leaves at the bottom and up the sides of a salad bowl, or spread them out on a large plate. Add the beetroot and apple mixture on top of the leaves and sprinkle over the seeds.

If you want to make more of a meal of this beetroot and apple salad, add fried slices of halloumi to the salad.