Butternut And Walnut Pasta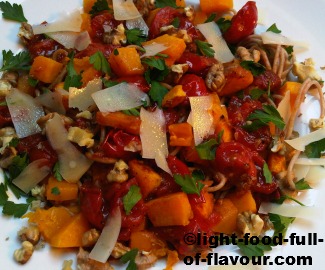 Beautiful to look at and tasty to boot - this butternut and walnut pasta is a stunner of a dish. If you use wholegrain spelt or wheat pasta, or pasta made from pulses, then it's even tastier and healthier. 

I love wholegrain spelt spaghetti (I buy biona organic spelt spaghetti from a health food shop). It is so utterly tasty on its own, and much healthier and much better for your weight than plain white spaghetti. I also love pasta made from pulses but it's not always easy to find.

Now, I am placing this butternut and walnut pasta dish under vegetarian recipes but I do use anchovy fillets in the recipe. I have friends who are pescetarians and they would of course be fine with this.

If you are a strict vegetarian, then simply leave out the anchovy fillets and add a bit of salt in its place.

 

For 4 people:

1 small butternut squash, peeled, deseeded and diced

Olive oil

A large handful of walnuts, roughly chopped

1 tablespoon olive oil

4 anchovy fillets, chopped (I buy anchovy fillets in olive oil)

2 garlic cloves, crushed

250g, 9oz, 1½ cup, ripe small tomatoes (like cherry or plum tomatoes), halved

2 tablespoons balsamic vinegar

Black pepper


Parmesan cheese shavings (use a potato peeler to make the shavings)

A handful of parsley, leaves only, roughly chopped

Spaghetti of your choice

1.    Pre-heat the oven to 220C/Fan 200C/425F/gas mark 7. Place the diced butternut squash in a roasting pan, drizzle over a bit of olive oil, season with salt and toss everything together. Place the roasting tin in the oven for about 25 minutes – stir midway through – until the diced butternut is tender.

2.    Put a large pan of salted water on to boil. Place the walnut pieces in a frying pan over a medium high heat and dry-fry for 2-3 minutes, until they start to brown slightly and smell wonderful. Remove the walnut pieces from the frying pan and allow them to cool down.

3.    Add 1 tablespoon of olive oil and the chopped anchovy fillets to the frying pan over a medium high heat. Keep stirring until the anchovy starts to break down. Add the crushed garlic and continue to cook for a further minute. Add the tomatoes, balsamic vinegar and season, quite generously, with black pepper. Stir, lower the heat and simmer for about 5 minutes. Keep warm.

4.    Cook the spaghetti according to packet instructions and then drain. Return the pasta to the pan, add the diced butternut squash and the anchovy-tomato mix and gently toss together. Divide the pasta between four shallow bowls and top each plate with some walnut pieces, chopped parsley and Parmesan cheese shavings.