Carrot And Pepper Quiche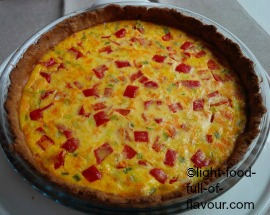 When it comes to quiches, I prefer a vegetable one – like this very tasty carrot and pepper quiche which I made the other day.

I've been making a fair few quiches for a café recently and all of a sudden I felt such an urge to make one for myself.

I tend to use whatever I have at home when I'm making a quiche - and something I almost always have are red peppers (bell peppers). I buy the sweet pointed variety as I think they are much tastier than ordinary peppers, which I often find have a very bland taste.

So, I decided to use red peppers, carrot (coarsely grated), and spring onions (scallions) this time – both a colourful and tasty combination. You don't need to cook the vegetables before they go into the egg and cheese mixture, and then into the pastry case.

The cheeses I used in this carrot and pepper quiche were mozzarella and parmesan cheese, mostly because these were the cheeses I had at home but it worked really well.

For the pastry, I used half and half of white spelt flour and wholemeal (wholewheat) flour, gorgeous French butter from Brittany and full-fat Greek yogurt. You can use either full-fat cottage cheese or crème fraiche instead of the yogurt.

For 4-6 people:

For the pastry recipe, click on Pastry for Quiche.

3 eggs

4 heaped tablespoons full-fat yogurt (or use cottage cheese/ crème fraiche)

1 large, or 2 medium-sized carrots – coarsely grated

2 red peppers (bell peppers), chopped

2 spring onions (scallions), sliced

125g, 4½oz, mozzarella cheese - chopped

4- 5 heaped tablespoons grated parmesan cheese

Salt and pepper

 

1.    Preheat the oven to 200C/400F/gas mark 6. Make the pastry for the quiche. Push it out with your fingers into your pie dish and place it in the fridge to chill for 30 minutes.

2.    Take out the pie dish from the fridge, prick the bottom with a fork, cover with baking parchment and add whatever baking beans you are using. Bake in the oven for 15 minutes.

3.    Take out the pie dish and carefully remove the baking parchment and the baking beans. Return the pie dish to the oven for another 5-7 minutes until the pastry starts to brown and the bottom of the pastry is properly baked through and dry.

4.    In a bowl, mix together the eggs and the yogurt and add the grated carrot, peppers, spring onions (scallions), mozzarella and parmesan cheese. Season with some salt and pepper and stir everything together.

5.    When the pastry is ready, pour the mixture into the pie dish and place it in the pre-heated oven. Cook for about 30 minutes, until the mixture has set and the carrot and pepper quiche is nicely browned.