Carrot Cakes With Cinnamon And Walnuts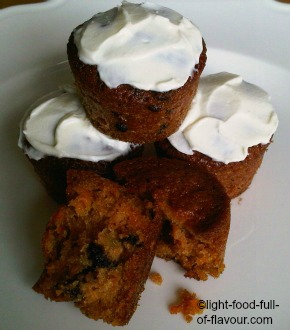 Every time I bake theses carrot cakes, I'm stunned by how incredibly delicious they are. Simply irresistible!

There is a fair deal of sugar and sunflower oil in these cakes. As per usual though, I make my cakes small - so small in fact that the amount of sugar and oil in each cake is relatively low. The carrots and walnuts are good for you but let's not kid ourselves – we are talking about cakes!

In the place of sugar though, I'm using xylitol. Xylitol looks and tastes like sugar but has very little effect on raising your blood sugar.

I read about xylitol a while ago and finally got around to try it. And now that I have, I won't use sugar again. Xylitol is a vegetable sugar which is similar to fructose in fruit and has a very low GI.

I'm not sure if it's sold in super-markets. I bought it in a health food shop.

I have tried using spelt flour instead of plain white flour for this recipe, but I didn't like the result. But I do use organic plain white flour, organic sunflower oil, organic eggs and organic carrots.

I've seen carrot cake recipes with a lot of different stuff in them. Mine are pretty straightforward and people seem to love them. I make the topping slightly sour and it is a perfect match for the cakes.

You can, of course, make one big cake. You need to bake it for around 50 minutes (possibly a bit longer) and cover it with baking parchment about half-way through to protect the top from browning too much.

I use miniature muffin silicone trays with 11 holes - this recipe will make 33 small carrot cakes.

250g, 9oz, 1¼ cup, xylitol - or use caster sugar (superfine sugar)

200ml, 7floz, 0.9 cup, sunflower oil

3 organic or free-range eggs

300g, 10½oz, 2.8 cups coarsely grated carrot

100g, 3½oz, 0.8 cup, chopped walnuts

190g, 6¾oz, 1.3 cup, plain (all-purpose) white flour

1 teaspoon baking powder

1 teaspoon bicarbonate of soda (baking soda)

1 teaspoon ground cinnamon

½ teaspoon salt

 

For the topping:

150g, 5½oz, 3/5 cup, Philadelphia cream cheese

2 tablespoons lemon juice

2 level tablespoons icing sugar (confectioner's sugar)

 

1.    Pre-heat the oven to 180C/fan160C/350F/gas mark4. Prepare whatever cake tin or tray you are using (if you haven't got silicone trays, use mini-muffin cases).Place the sugar and sunflower oil in a bowl and whisk together until fluffy. Add the eggs to the bowl and use a large metal spoon to mix them in. Add the grated carrot and chopped walnuts and stir to mix them in.

2.    Place the flour in another bowl and add the baking powder, bicarbonate of soda, cinnamon and salt and mix together. Sieve the flour mix into the bowl with the sugar, oil and eggs. Mix everything together quite quickly.

3.    Divide the mixture between the trays - or muffin cases - filling each hole in the tray about 2/3 full. Bake the cakes in the pre-heated oven for around 25 minutes – until each cake is well risen and nicely browned.

4.    Mix together the ingredients for the topping and once the cakes have cooled down, place a small amount of topping on each cake.