Oven-Roasted Aubergine With A Nut, Pepper And Chilli Dip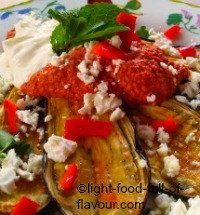 A Lebanese-Style dish - oven-roasted aubergine (eggplant) dish – served with a nut, red pepper and chilli dip. I love this type of food.

Aubergines go very well with strong flavours, like this dip with chillies. The inspiration for the dip comes from a recipe by London-based Lebanese chef Jad Youssef. 

I've made some changes to his recipe to lower the amount of calories in the dip. It is a really healthy dip though – and Super Tasty!

It's also quite quick to make - you dry-roast the nuts but other than that there is no cooking involved when making it. 

Apart from the dip, I serve the oven-roasted aubergines with natural Greek-style yogurt, feta cheese, mint, parsley, a big salad and toasted pitta bread.

I make my salad with spinach, rocket, watercress, tomatoes, coarsely grated carrots, sliced spring onion (scallion) and drizzle a bit of olive oil and balsamic vinegar over it.

I prefer to oven-roast my aubergine slices but you can also fry them in a griddle or frying pan, pop them under the grill or barbeque them. Just give them enough time to turn soft and golden.
 

For 4 people:

The dip:

2 tablespoons almonds

2 tablespoons pistachio nuts

2 tablespoons walnuts

2 tablespoons pecan nuts

1 small red onion, roughly chopped

3 garlic cloves, roughly chopped

2 red chillies, roughly chopped

1 large red pepper (bell pepper), roughly chopped

1 tablespoon olive oil

2 heaped tablespoons sun-dried tomato paste (or use plain tomato paste)

2 1/2 tablespoons lemon juice

1 tablespoon ground cumin

Salt and pepper

 
3 large, or 4-5 small, aubergines

100g, 3½oz, 2/3 cup, feta cheese, crumbled

Greek-style natural yogurt

A handful each of mint and parsley leaves, roughly chopped

1 red chilli, de-seeded, halved and finely sliced (optional)

1.    If you are going to oven-roast your aubergine, pre-heat the oven to 220C/fan 200C/425F/gas mark 7. Cover two baking trays with baking parchment. Cut the aubergines lengthwise into thin slices and place the aubergine slices on the trays.

2.    Brush each slice with a little bit of olive oil on both sides. Season with salt and pepper. Bake in the oven for about 20--25 minutes – turning them over half-way through – until the aubergine slices are nicely browned.

3.    While the aubergine slices are in the oven, place a large frying pan over a medium-high heat and dry-roast the nuts for 3-4 minutes, until golden and fragrant. Keep stirring to make sure they don't burn. Once done, crush them finely in a food processor and put to one side.

4.    Place the onion, garlic, chillies, red pepper (bell pepper) and 1 tablespoon olive oil in the food processor and blend together. Transfer the mix to a bowl and stir in the tomato paste, lemon juice, cumin and season with salt and pepper. Mix in the crushed nuts.

5.    Place the dip, feta cheese, yogurt, herbs and sliced chilli in separate bowls. Make a salad. Toast some pitta bread, preferably wholemeal (wholewheat) pitta bread.

Divide the oven-roasted aubergine slices between four plates and let everyone add as much as they want of the dip, feta cheese, yogurt, herbs and extra chilli. Serve with the toasted pitta bread and a salad.