Puy Lentil Salad With A Rocket And Walnut Pesto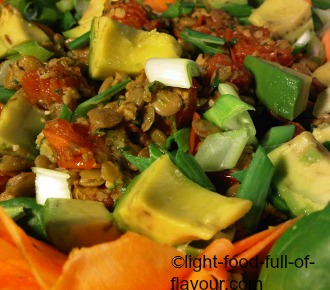 I'm not going to beat about the bush - this Puy lentil salad is sensationally tasty! I can't get over how incredibly yummy Puy green lentils are.

When you combine them, as I do here, with a rocket, parsley and walnut pesto the taste is mind-blowing.

If you can't find Puy green lentils, use ordinary green lentils.

This salad is quite filling thanks to the puy lentils. Lentils have the third highest protein content of any plant-based food and is rich in fibre - and this combination makes you feel full for longer.

I love all types of lentils and use red lentils quite often but for an extra nutritional boost, go for green and brown lentils over red lentils.

The green and brown lentil contain twice as much fibre and roughly a third more potassium, phosphorus, iron and copper.


For 4 people:

Pesto:

A handful rocket leaves

A handful of parsley leaves

10 walnuts

3 tablespoons oil – olive oil

1 garlic clove, crushed

3 tablespoons grated Parmesan cheese

Pinch of salt

 
For the Puy lentil salad:

100g, 3½oz, ½ cup, Puy green lentils (or use ordinary green lentils)

12 cherry or plum tomatoes, halved

1 tablespoon olive oil

1 tablespoon balsamic vinegar

Pinch of salt and pepper

1 medium-sized carrot – cut into ribbons with the help of a vegetable peeler

2 spring onions, sliced

1 avocado

The juice from ½ a lemon

100g, 3½ oz, baby spinach

1.    Start by cooking the lentils according to pack instructions. I cook mine in vegetable stock.

2.    While the lentils are cooking, make the pesto. Place the rocket, parsley leaves and walnuts in a food processor. Add the oil and whizz together. Place the mixture in a bowl and add the crushed garlic, a pinch of salt and grated Parmesan cheese. Mix everything together.

3.    Fry the tomatoes in a little bit of olive or rapeseed oil for a couple of minutes. Add the balsamic vinegar, a pinch of salt and pepper and fry for a further couple of minutes. Remove from the heat.

4.    Add the cooked lentils, while still warm, and fried tomatoes to the bowl with the pesto and mix well. Cut the avocado in half, remove the stone, peel each half and cut the avocado into cubes on a cutting board. Drizzle over the lemon juice.

5.    Place the baby spinach leaves at the bottom of a salad bowl, or spread them out on a large plate. Place the carrot ribbons and chopped spring onion on top of the spinach, followed by the lentil mixture and the avocado cubes.