Sweet Potato Salad With Spicy Chickpeas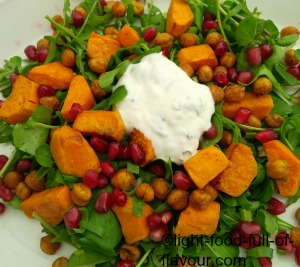 I think this sweet potato salad with spicy chickpeas, pomegranate seeds and garlic, mint and yogurt dressing is amazing. It's full of gorgeous flavours and quite filling.

Sweet potatoes are incredibly nutritious and good for you but if you are watching your weight, then only eat small amounts of it.

Even though the carbohydrates in sweet potatoes are slow-releasing, there are a lot of carbohydrates in these spuds. And that's the equation you've got to make if you are trying to lose or maintain your weight (see Low-GL Carbohydrates).

Beans, chickpeas and lentils, on the other hand, are a weight-watcher's best friend. Apart from being rich in vitamins and minerals, they also contain a lot of protein as well as carbohydrates and fibre. And that is the perfect combination as far as weight maintenance goes.

I used a mixture of watercress and rocket (arugula) leaves – both quite peppery and massively nutritious - for my sweet potato salad but you can add any dark green lettuce leaves of your liking.

I make an effort to eat as much dark green leaves as possible every day as these types of leaves are so full of healthy nutrients. Apart from salads I top any bread I eat with a handful of whatever leaves I've got at hand, and do the same with a bowl of pasta.


Sweet potato salad for 4 people:

2 medium-sized sweet potatoes, peeled and diced

1 tablespoon of olive oil
Salt and pepper
400g, 14oz, 2½ cups cooked chickpeas

1 tablespoon olive oil

1 heaped teaspoon ground cumin

½ teaspoon ground ginger

¼ teaspoon paprika

Salt and pepper

150g, 5½oz, dark green salad leaves, such as spinach, rocket (arugula), watercress

3-4 tablespoons pomegranate seeds


For the yogurt sauce:

200g, 7oz, ½ cup, natural yogurt

1 garlic clove, crushed/minced

10 fresh mint leaves, finely shredded


1.    Start by heating up the oven to 200C, fan 180C, 400F, gas mark 6. Add the diced sweet potatoes to an oven-proof dish, drizzle over a tablespoon of olive oil and season with some salt and pepper. Toss everything together and place the dish in the oven. Cook the sweet potatoes for about 25-30 minutes, until soft.

2.    Mix together the ingredients for the yogurt sauce in a bowl, cover it and leave it to "mature" in the fridge.

3.    If you are using canned/tinned chickpeas, rinse them well under running cold water. Use either a clean towel or kitchen roll to dry them off and discard the papery, outer skin that will come off them.

4.    Mix together 1 tablespoon of olive oil with the ground cumin, ginger and paprika and add this to frying pan over a medium- high heat. Once the oil is hot, add the chickpeas to the pan and toss them around in the oil and spices. Season with some salt and black pepper and continue to fry for 3-4 minutes before turning off the heat.

5.    Once the sweet potatoes are ready, you can either cool them down and serve everything cold or add them warm to the salad. Place the dark green leaves at the bottom and top with the diced sweet potatoes and spicy chickpeas. Scatter the pomegranate seeds over the sweet potato salad and serve with the yogurt dressing.