Twenty-First Of June Diary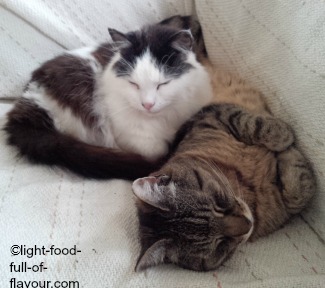 My laptop is covered in cat hair and I am in paradise. This is not due to the cat hair – although the cats are lovely – but rather because of where I am.
Actually, I have moved from one paradise to another recently – and from one gorgeous cat girl to two adorable cat boys (photo is of the two boys).
Being as I am without a home of my own at the moment, I have been house and cat-sitting for others.
I started off in my native country Sweden – in an old wooden house up on a hill with green fields full of wild flowers stretching all the way down to a lake. It was incredibly peaceful and unbelievably beautiful.
And the kitchen was fabulous to cook in!
Now I'm on the Scottish island of Mull and I've got to tell you, it is so beautiful here it makes my heart sing.
I worked as the cook on a boat sailing around Mull three years ago but this is the first time I've been exploring the Island from within. You travel on single track roads in a mountainous, green and luscious landscape - dotted with lochs - which is so utterly, stunningly beautiful.
I AM IN AWE! And the kitchen is fabulous to cook in.
Fresh Fish And Seafood
The cooking was made even better when a neighbour dropped by one morning and gave me fish he had caught the night before - a fresh mackerel and a Pollock.
Mackerel is definitely a fish that should be eaten as fresh as possible. I made a wonderful lunch that day with the mackerel quickly fried in a bit of butter and accompanied by an omelette made with feta cheese and lightly boiled tenderstem broccoli (broccolini) – plus a big salad.
Yummy!
I know I've mentioned it in other places on my website but I feel it's worth repeating how incredibly healthy tenderstem broccoli (broccolini) is.
This vegetable is a cross between kale and broccoli and it is the richest source by far of glucosinolates - which is one of the most important anti-cancer and liver-friendly nutrients found in food (Patrick Holford "The Optimum Nutrition Bible").  
You'll find this nutrient in broccoli, Brussels sprouts and other cruciferous vegetables as well.
Apart from the fresh fish, I've been indulging in locally caught scallops and will feast on mussels tonight. I haven't decided which way to cook them yet but I'm leaning towards a spicier variation. Recipe to follow…
And now, having spent the morning reading and writing, it is time to get those legs of mine out on a walk along the sea – with the green and luscious mountains in the background.
Happy cooking!  
Home Page > Healthy Weight Loss Diary > Twenty-First Of June Diary