Fish Tagine With Preserved Lemon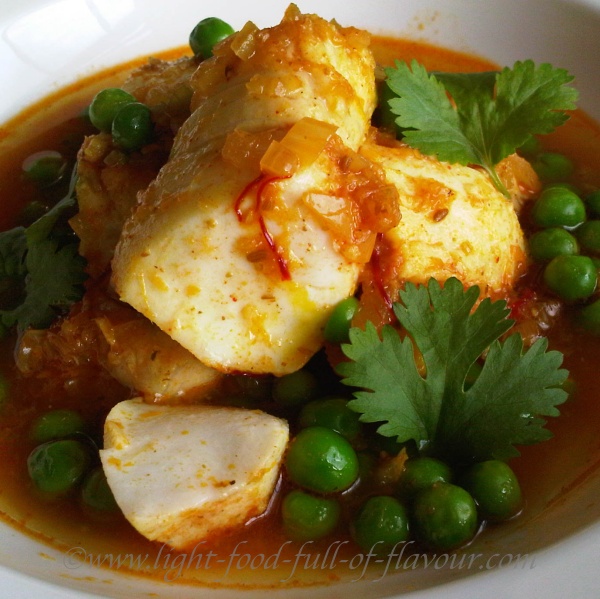 Never mind the length of the ingredient list, this super-tasty fish tagine with preserved lemon is relatively quick to make.

But if you have the time, make the sauce well in advance. This will intensify the flavours and you can finish off the dish – by adding the fish and peas to the re-heated sauce - really quickly once you are ready to eat.

Serve the tagine with couscous or quinoa – and make either of them more interesting by adding finely grated zest of lemon and/or lime, chopped spring onion (scallion) and thinly sliced celery.

I only use wholemeal (wholewheat) couscous. This is about taste just as much as health. Wholemeal couscous taste so much more than refined couscous which, let's face it, has virtually no taste at all.

I have bought wholemeal couscous in supermarkets but the tastiest kind by far that I have ever bought is Infinity Foods Organic Wholemeal couscous. I found it in a health food shop.

Preserved lemons are sold in well-stocked supermarkets but if you can't find it there, look for it in shops where they sell Middle Eastern food.

 
Fish tagine with preserved lemon for 4 people:

1½ tablespoon olive oil

3 shallots, finely chopped

2 fat garlic cloves, crushed/minced

2 heaped teaspoons finely grated fresh ginger

1 teaspoon ground coriander (cilantro)

1 teaspoon ground cumin

½ teaspoon ground paprika

¾ teaspoon fennel seeds, ground to a powder in a pestle and mortar

¼ teaspoon ground turmeric

A good pinch of saffron strands

1 heaped tablespoon tomato puree

600ml, 20floz, 2½ cups, fish stock

1 preserved lemon, halved, deseeded and finely chopped

Salt and pepper

600g, 1lb 5½oz, firm white fish – like haddock or cod – cut into large chunks

150g, 5½oz, 1 cup, frozen peas

Handful of fresh coriander (cilantro), chopped

1.    Heat the olive oil in a casserole over a low heat. Add the shallots, garlic, ginger and all the spices – including the saffron – to the casserole. Stir and cook for about 7 minutes, until the chopped shallots are soft.

2.    Add the tomato puree, fish stock, chopped preserved lemon and season with salt and pepper. Bring the sauce to a simmer. Let it simmer for 10 minutes. Taste and check the seasoning!

3.    Add the fish to the sauce. Cover the casserole with a lid and simmer for 5 minutes. Remove the lid, add the peas and let it all come back to simmer for 1 minute. Scatter over the chopped coriander (cilantro) before serving.
Home Page > Fish And Seafood Recipes > Fish Tagine With Preserved Lemon