Vegetarian Stir-Fry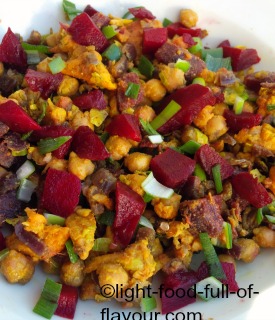 I could eat this gorgeous vegetarian stir-fry anytime of the day. I absolutely love it!

I have chosen to use chickpeas, sweet potato, Brussel sprouts and beetroot for this particular one but you can add any vegetables that you like – like sliced broccoli, cauliflower and carrots.

Unlike normal stir-fries where you cook the food on a high heat, my vegetarian stir-fry is cooked gently. Like with any stir-fry though, it is good to have all the vegetables chopped up and ready.

I do use already cooked chickpeas and beetroot in natural juice. I buy organic varieties of both and only add them at the end – just long enough to get them heated through.

You could cube the sweet potatoes and cook them in the oven before adding them to the stir-fry. I cook them whole – like baked potatoes – in the microwave oven and scoop out the flesh and add them at the end. This saves cooking time – and causes less mess to clear up afterwards!

I serve this vegetarian stir-fry with quinoa and a mixed salad with lots of peppery leaves.


For 4 people:

2 medium-sized sweet potatoes

3 tablespoons coconut oil

1 small red onion, chopped

A thumb-size piece of ginger, finely chopped

2 teaspoons ground coriander

2 teaspoons ground cumin

¾ teaspoon turmeric

¼ teaspoon dried chilli flakes

Salt and pepper

10 Brussel sprouts, trimmed and finely sliced

400g, 14oz, 2½ cups, cooked chickpeas

200g, 7oz cooked beetroot, diced

2-3 spring onions (scallions) sliced

1.    If you are going to cook the sweet potato in the oven – pre-heat the oven to 200C/fan 180C/400F/gas mark 6. Peel and dice the sweet potato, place it in an oven dish and toss with a tablespoon of coconut or olive oil. Cook in the oven for about 20 minutes – until soft.

2.    If you are doing it my way, pierce the skin of the sweet potatoes several times, place on a plate and bake in the microwave for around 7-8 minutes (turn over the potatoes after half the time). Once they are ready, cut open the sweet potatoes and scoop out the flesh.

3.    While the sweet potatoes are cooking, add the coconut oil and chopped red onion and ginger to a large frying pan over a low-medium-high heat and fry for 5 minutes. Add the spices, season with some salt and pepper and fry for a further minute before adding the finely sliced Brussel sprouts. Cook for another couple of minutes.

4.    Stir through the chickpeas, diced beetroot and sweet potato. As soon as everything is warm, take the pan off the heat. Add the sliced spring onion (scallion) to the stir-fry.

Serve with quinoa and a salad.