Asian-Style Trout With Roasted Vegetables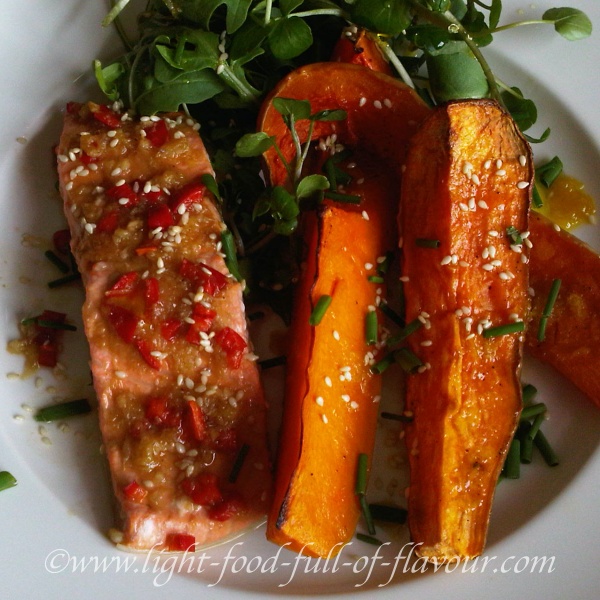 My kind of food, an Asian-style trout dish which is super-delicious, mega-healthy and - although rich in essential fats - kind to your waist-line. You can use salmon instead of trout.

Trout, like salmon, is an oily fish which is rich in Omega 3 - an essential type of fat which in very good for our health (see Fourth of May Diary).

I am also sprinkling sesame seeds over the finished dish. Sesame seeds are rich in Omega 6 – the other type of essential fat that we need to keep healthy.

I'm serving the fish with oven-roasted butternut squash and sweet potatoes. Both are full of healthy nutrients – including the powerful antioxidant beta-carotene – but for the sake of your waist-line, you are better off eating more of the butternut squash and less of the sweet potato.

As I want a part of any meal I serve to consist of raw as well as green vegetables, I also serve this Asian-style trout dish with spinach, watercress and rocket (arugula) leaves. It's a good idea to eat lots of these extremely healthy and very low-calorie leaves!

I sprinkle hemp oil infused with lemon zest – super-Yum - over the leaves and scatter chopped chives over the whole dish.

Hemp oil is also a rich source of Omega 3. You can use equally healthy Extra virgin olive oil instead.

Recipe For Asian-Style Trout
For 4 people:

1 small butternut squash, cut into 8 wedges

2 small sweet potatoes, halved

1 tablespoon Extra virgin olive oil
 
Marinade for the trout:

2 heaped teaspoons finely grated ginger

2 garlic cloves, crushed

1 large red or green chilli, finely chopped

1 tablespoon light soya sauce

Juice of ½ orange

Juice of 1 lime

1 teaspoon honey

1/2 teaspoon each of salt and black pepper


4 trout fillets – or salmon fillets

 
1 ½ tablespoon hemp oil or Extra virgin olive oil

Grated zest of an unwaxed lemon

 
Spinach, watercress, rocket (arugula) leaves

2 tablespoons sesame seeds

3 tablespoons chopped chives

1.    Pre-heat the oven to 220C/fan 200C/425F/gas mark 7. Place the butternut squash wedges and sweet potato halves on an oven tray lined with baking parchment. Brush the vegetables with the olive oil and season with some salt and pepper. Place the tray in the oven and roast the vegetables for about 35-40 minutes (use a knife to see if they are done).

2.    In a small bowl, mix together the hemp or extra virgin olive oil and grated lemon zest and leave to the side.

3.    Mix together all of the ingredients for the marinade. Place the trout fillets in an oven-proof dish lined with baking parchment. Divide the marinade over the fish and leave to marinate for 10 minutes before placing the dish in the oven. Bake the fish for about 10 minutes.

4.    Serve the trout and roasted vegetables with lots of green leaves – divide any left-over marinade over the fish and roasted vegetables. Sprinkle the lemon infused oil over the green leaves and scatter sesame seeds and chopped chives over each portion.