Baked Sweet Potatoes With Refried Beans, Avocado, Lime-pickled Onion And Feta-Garlic Sauce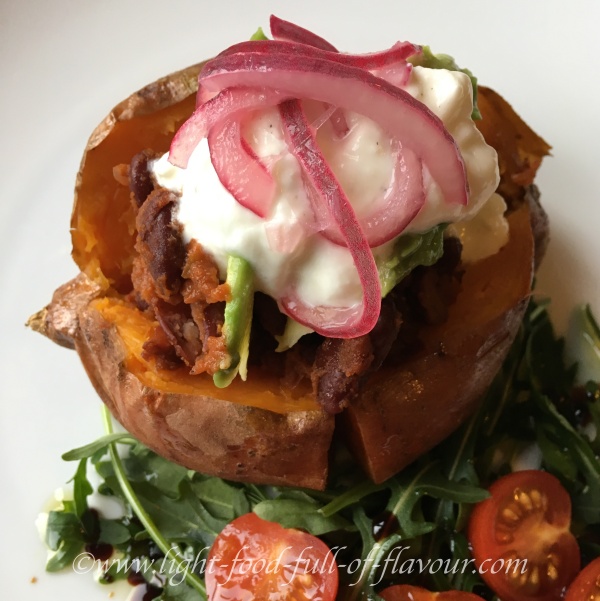 This is my kind of food – baked sweet potatoes with refried beans, avocado, lime-pickled onions and a feta and garlic sauce. So tasty yet healthy and apart from the time the potatoes need in the oven, quite quick to make as well.

Sweet potatoes are really healthy and are a good source of vitamins, minerals and fibre. The carbohydrates in sweet potatoes are slow-releasing (low GI) but as they do contain a lot of carbohydrates, it is best to eat them in moderation if you are watching your weight (see Low GL Carbohydrates).

All beans are rich in fibre and are also a good source of healthy protein. I am using cooked kidney beans (drained and then rinsed) in this recipe but you can use black beans as well.

Avocados are rich in vitamins, minerals, fibre and heart-healthy monounsaturated fat. An avocado is a nutritional gem!

I serve the baked sweet potatoes with a salad with lots of dark green leaves, such as rocket (arugula) and spinach, and ripe and juicy small tomatoes. I just drizzle some Extra virgin olive oil and balsamic vinegar over the salad.

For 4 people:

4 small sweet potatoes
For the lime-pickled onions:
1 medium-sized red onion, halved and sliced into thin strips

1 tablespoon fine sea salt or fine Himalayan crystal salt
Juice of 1 lime
For the refried beans:
1 medium-sized red onion – chopped

1 tablespoon Extra virgin olive oil
2 teaspoons ground cumin
1 teaspoon ground paprika
½ teaspoon cayenne pepper
¼ teaspoon black pepper
1 heaped tablespoon tomato purée
1 teaspoon honey
1 teaspoon vinegar – red or white
400g, 14oz, 2 cups cooked kidney beans or black beans- drained and rinsed
1 teaspoon sea salt or Himalayan crystal salt
150ml, 5floz water
For the feta and garlic sauce:

75g, 2 1/4oz feta cheese - crumbled

150 ml, 5flooz, ¾ cup natural yogurt
1 garlic clove – crushed/minced
black pepper
1 avocado – sliced
Preheat the oven to 220C/fan 200C/425F/Gas mark 7. Pierce the skin of each potato several times with a knife or fork and wrap each sweet potato in foil. Place them on a baking tray and cook for 30 minutes first, then turn them over and cook for a further 30 minutes. Pierce them with a knife to make sure they are cooked through.

While the sweet potatoes are in the oven, start by making the lime-pickled onions. Place the sliced onion strips in a non-metallic bowl and add one tablespoon of salt. Use your hands to mix the salt and onion strips. Leave for 10 minutes before placing the onion strips in a sieve and rinse off the salt under cold water. Drain and place the onion strips back in the rinsed out bowl and add the juice of 1 lime and mix. Leave to the side.

To make the refried beans, add 1 tablespoon of Extra virgin olive oil and the chopped onion to a frying pan over a medium-high heat and fry for about 5 minutes until the onion has softened. Add the cumin, paprika, cayenne pepper and black pepper to the pan and fry for a further 2 minutes and then add the tomato purée, honey, vinegar, salt, beans and the water. Stir everything together, bring to a simmer and continue to cook until most of the water has evaporated.

Mix together the crumbled feta, yogurt and garlic in another bowl and season the mixture with some black pepper. Once the sweet potatoes are ready, halve the avocado, take out the stone, scope out the flesh and slice it.

Cut open the baked sweet potatoes and divide the refried beans first, and then the avocado between them. Top each potato with a dollop of the feta and garlic sauce and some of the lime-pickled onions and serve it all with a side salad.