Baked Tomatoes And Feta Cheese With Kale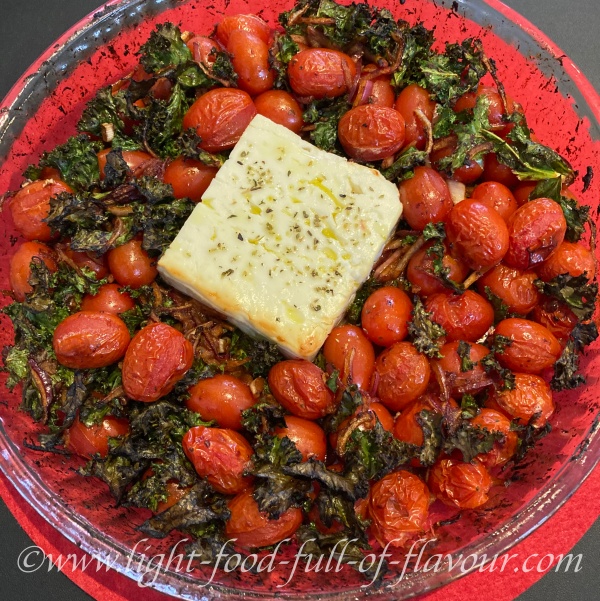 It's easy to make these baked tomatoes and feta cheese - and it's so tasty.
Tomatoes are healthier when cooked as this releases more of the healthy antioxidant lycopene that they contain.
And super-healthy kale, which can be somewhat of a taste challenge raw, becomes really tasty when tossed with all the ingredients in this dish and then oven-baked. I tend to mostly use curly kale (and I sneak it into a multitude of different dishes) but you can use any type of kale.
Feta cheese is one of my favourite cheeses (as long as it's real deal made from sheep's and goat's milk) and baked in the oven it becomes wonderfully gooey!
When it comes to tomatoes, it's really worth buying ripe and fragrant varieties. Tomatoes should not be stored in the fridge -  they will not ripen any further if stored there and taste better when left out.
To make these baked tomatoes with feta into a more substantial meal, serve them with oven-roasted vegetables - like sweet potato and and/or squash wedges, and Brussel sprouts (which become really tasty when tossed in olive oil and oven-roasted for 15-20 minutes).
Kale and Brussel sprouts are both part of the very healthy cruciferous vegetable family - and they are both Low-GL carbohydrates.
For a lighter meal, serve this tomato dish with some nice toasted bread - I use toasted sourdough bread - and a salad.
For 4 as a side dish, or for 2 as a light main dish:
400g ripe small tomatoes (like plum or cherry) halved
1 large red onion, halved and finely sliced
2 large handfuls kale - hard stems removed and shredded
2 garlic cloves, crushed/minced
1 heaped tablespoon tomato pureé
1 1/2 tablespoon balsamic vinegar
2 tablespoons Extra virgin olive oil
1 teaspoon sea salt
1/2 teaspoon dried oregano
1/4 teaspoon black pepper
200g feta cheese
1. Preheat the oven to 220C/Fan200C/425F/gas mark7. Add all the ingredients apart from the feta cheese to a baking dish and mix everything together really well. Make a space in the middle and add the block of feta cheese to the baking dish.
2. Place the baking dish in the middle of the pre-heated oven and cook for 15 minutes. Once it's ready, drizzle a little Extra virgin olive oil and sprinkle some more dried oregano over the feta cheese.