Banana And Chocolate Cakes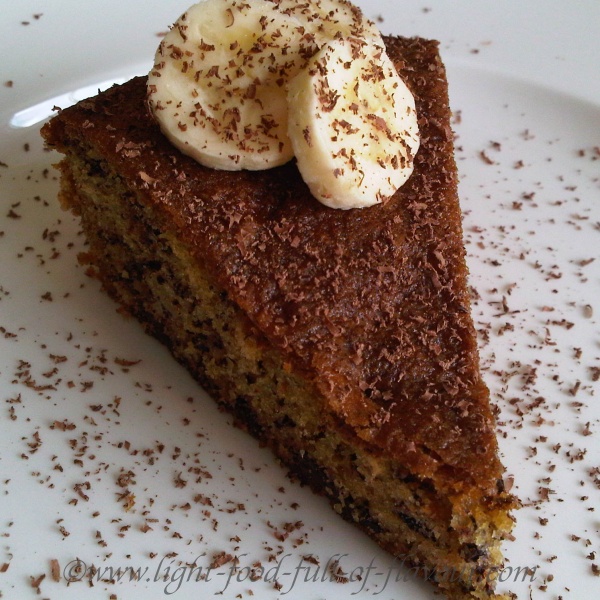 Several versions and too many cakes later (well, I've got to try them), I have finally created a recipe for what I think are utterly delicious banana and chocolate cakes.

You can bake it as one big cake or you can make little cupcakes. I prefer to make cupcakes as I find it easier to control my cake-intake this way. (The photo is of a slice of a big cake solely because it was more photogenic than the cupcakes!)

A lot of people I cook for say the same thing – that they can allow themselves one of my cakes as they are so small.

Let's face it – there is no way you are going to cut 24 slices out of an ordinary-sized cake!

Apart from the butter and sugar – they are cakes after all – these banana and chocolate cakes are almost good for you. Wishful thinking perhaps but they contain lots of healthy bananas, nuts and a bit of dark chocolate. Oh yes, a little bit of antioxidant-rich dark chocolate is good for you – as long as you stick to "a little bit…".

I'm using very little flour in these banana and chocolate cakes, and the flour I use is organic white spelt flour (dinkel wheat flour). Spelt is an ancient type of wheat which is becoming more and more popular. People with wheat intolerance often find that they can eat bread or cakes made with spelt. (I make my quiche pastry with wholegrain spelt flour.)

If you can't find spelt flour (dinkel wheat) in your supermarket, try a health food shop. You can, of course, use ordinary plain flour – preferably organic stone-ground flour.

I am also using xylitol in place of sugar these days. Xylitol looks and tastes like sugar but has very little effect on raising your blood sugar.

I read about xylitol a while ago and finally got around to try it. And now that I have, I won't use sugar again. Xylitol is a vegetable sugar which is similar to fructose in fruit and has a very low GI.

I'm not sure if it's sold in super-markets. I bought it in a health food shop.


This will make 24 banana and chocolate cup cakes:

2 large eggs

200g, 7oz, 1cup, xylitol - or use caster sugar (superfine sugar)

150g, 5½ oz, 0.7 cup (1.4stick) unsalted butter, melted

3 large ripe bananas, mashed (use a fork to mash the bananas)

50g,1¾oz, 1/3 cup 70% dark chocolate, chopped

50g 1¾oz, 1/2 cup walnuts, roughly chopped

200g, 7oz, 1¾ cups, ground almonds

70g, 2¼oz, 1/2 cup, plain white spelt flour - or use ordinary plain white flour

2 teaspoons baking powder

1 teaspoon bicarbonate of soda

 

1.    Pre-heat the oven to 180C/fan 160C/350F/gas mark 4. You can use individual muffin cases or silicon trays - place whichever you choose on a baking tray. Place the eggs and sugar in a bowl and whisk together, using either an electric whisk or an ordinary whisk, until the mixture becomes pale and fluffy.

2.    Add the melted butter to the bowl and mix it in using a large metal spoon. Add the mashed bananas, chopped chocolate and walnuts to the bowl and mix everything together.

3.    Place the ground almonds in a separate bowl. Sieve the flour, baking powder and bicarbonate of soda into the ground almonds. Mix well and then add this to the other bowl, mixing it all together quite quickly.

4.    Divide the mixture between the cupcake cases, filling each about 2/3 full. Bake the cakes in the pre-heated oven for around 20 - 22 minutes – until each cake is well risen and nicely browned. (If you choose to bake one big cake, you will need to leave it in the oven for around 40 minutes and cover it with baking parchment about half-way through to protect the top from browning too much.)