Beetroot And Chilli Ketchup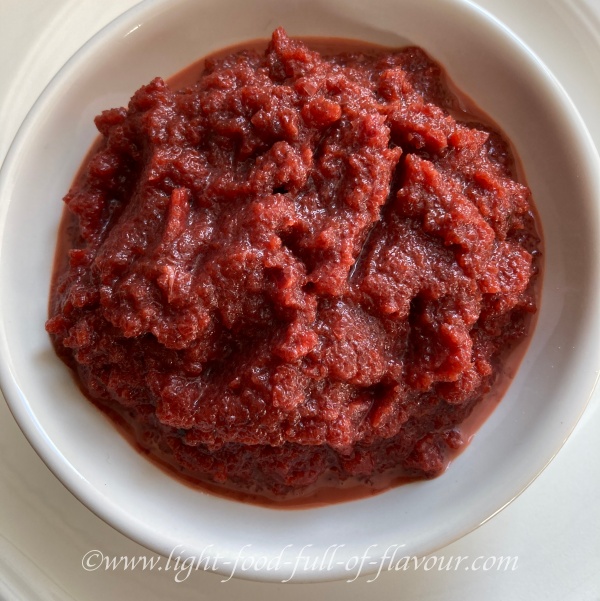 For a tasty and healthy kick, add some of this beetroot and chilli ketchup to your food. It is quick and easy to make and packs a real punch.
This tasty beet ketchup will liven up a lot of different food. Eat it with roasted vegetables or with cheese. Top some cooked salmon or chicken with a dollop. I love to toast sourdough bread and top it with either mashed avocado, this beetroot ketchup and a poached egg or hummus, beet ketchup and avocado (see photo below). 
I am huge fan of beetroots and I tend to have both raw and pre-cooked beets at home. The cooked ones that I buy are vacuum-packed in their natural juices.
Compared to ordinary ketchup which is full of sugar, this beetroot ketchup is healthy with only a tablespoon of honey added to it.
Beetroots are rich in antioxidants, a good source of fibre and contain potassium, magnesium, iron, vitamins A, B6 and C and folic acid. 
Onions (I use red onion in this recipe) are also rich in antioxidants. They are  also a rich source of soluble fructan fibres, prebiotics which feed the good bacteria in your gut (see A Healthy Gut).
Chillies contain vitamin A, E and C, dietary fibre, potassium and iron. Capsaicin, the active component responsible for the burning sensation in chillies, may have an anti-inflammatory effect and help stop the spread of prostate cancer cells. Red chillies are rich in betacarotene, a powerful antioxidant.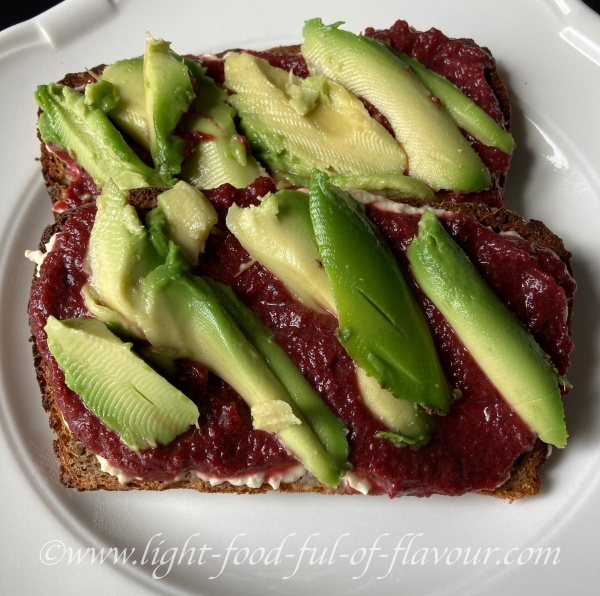 Recipe For Beetroot And Chilli Ketchup:
2 tablespoons Extra virgin olive oil
1 small red onion - chopped
300g, 10 1/2oz, cooked beetroot, diced
1 tablespoon honey
1 tablespoon cider or white wine vinegar
1 tablespoon balsamic vinegar
1/4 teaspoon cayenne chilli pepper
1/4 teaspoon black pepper
1/2 teaspoon salt
75 ml, 2.5fl oz, water
Add the olive oil to a pot over a low heat. Add the chopped onion once the oil is hot. Stir every now and the for 5 minutes.
Increase the heat to medium high and add the diced beetroot, honey, vinegars, cayenne and black pepper, salt and water to the pot. Keep stirring for about 8 minutes, until most of the liquid has evaporated.
Place the mixture in a food processor and whizz until smooth.
Once the beetroot and chilli ketchup has cooled down, it will keep for a couple of weeks in a well-sealed container in the fridge.
Home Page > Salsa Dips And Sauce Recipes > Beetroot And Chilli Ketchup