Beetroot And Walnut Dip With Pomegranate Molasses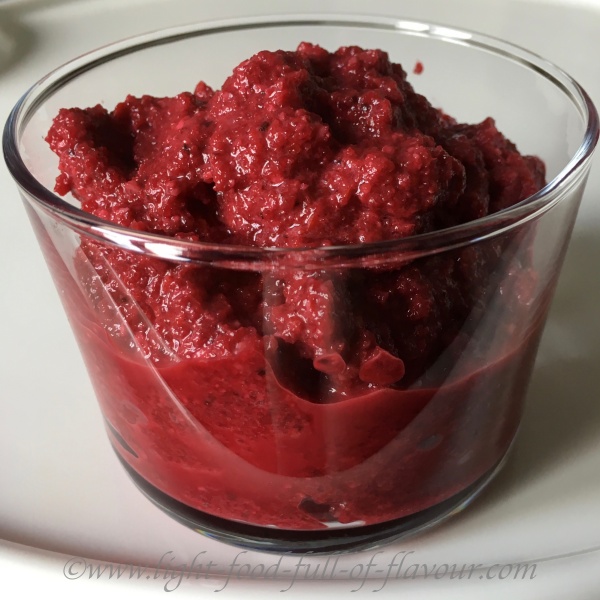 I am a huge fan of beetroot (beets) and this beetroot and walnut dip with pomegranate molasses is both easy to make and super tasty. Oh, and it is healthy as well!
Beetroots are a rich source of antioxidants and contain potassium, magnesium, iron, vitamins A, B6 and C and folic acid, as well as protein, carbohydrates and soluble fibre. 

This root vegetable also contains betaine, which is important for cardiovascular health.

Beetroots have been shown to lower blood pressure and other studies have shown the positive effect beetroot can have on human exercise and performances - giving your body a performance boost.

I use beets in a lot of different ways and buy both raw ones as well as pre-cooked ones, as long as they are vacuum-packed in natural juices.

The walnuts add a lot of extra nutrients to the dip. Apart from being rich in essential fats, walnuts (like all nuts and seeds) are rich in certain vitamins and minerals. 

Nutritional yeast flakes is an incredibly nutrient-rich food product - rich in fibre, vitamins and minerals. It has a wonderfully cheesy and nutty flavour. Here in the U.K. you can find it in well-stocked supermarkets and also in health food stores.
Pomegranate molasses is simply a syrup which is made from reduced pomegranate juice. You can sometimes find it in well stocked supermarkets – or look for it in health food shops or shops that specializes in Middle Eastern food.

I bought mine in my local health food shop.
Serving Tips
For The Beetroot And Walnut Dip

This beetroot and walnut dip is perfect to serve as part of a buffet. I tend to serve it as a light, vegetarian lunch buffet together with hummus, avocado, feta cheese, red peppers (bell peppers), toasted wholemeal pitta bread and a large salad.  

But it will also make an awesome side dish to food like roasted vegetables, oven-roasted salmon or chicken to name but a few. 

As it is so quick to whip up, add some to a lunch box with raw carrot sticks, sliced cucumber, dark lettuce leaves, hummus and some oat cakes. This would be a really healthy lunch to bring to work. 
Beetroot and walnut dip:

300g, 10½oz, cooked beetroots in natural juices – roughly chopped 

1 large red pepper (bell pepper) – sliced

50g, 1¾oz, walnuts

1 heaped tablespoon nutritional yeast flakes

1 tablespoon pomegranate molasses

1 tablespoon balsamic vinegar

1 tablespoon olive oil

½ teaspoon sea salt or Himalayan crystal salt

¼ teaspoon black pepper

a pinch of cayenne pepper
Place all the ingredients in a food processor and blitz for about 20-30 seconds, until you have a quite smooth mixture.
Home Page > Salsa and Sauce Recipes > Beetroot and Walnut Dip