Blueberry Friands With Ground Almonds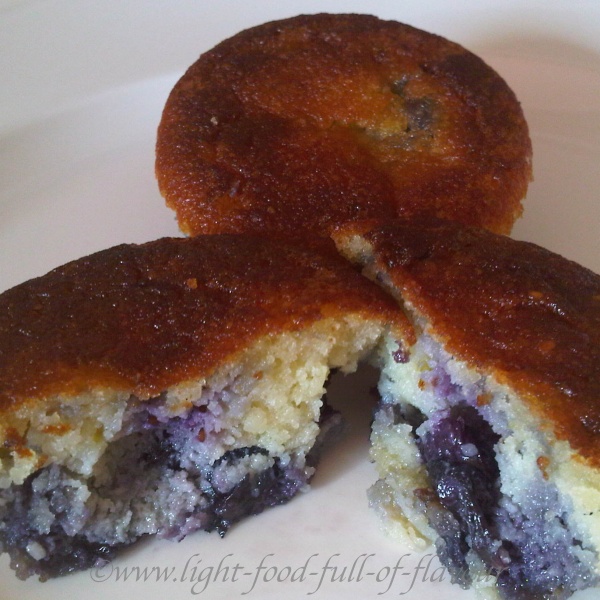 Believe it or not but these very moist and delicious (and gluten-free) blueberry friands with ground almonds are on the verge of being healthy!
Does it sound too good to be true? Well…

Blueberries are bursting with vitamins C and E - one large handful of the berries provides as many antioxidants as five servings of carrots, broccoli or apples. Berries in general contain many phytonutrients that boost your immune system.

(Ok, I'm not going to deny that for best effect berries should be eaten on their own and raw, but they will do some good in a cake as well.)

Fresh berries also have the lowest sugar content of all fruit – you can eat a big serving of berries without it affecting your weight very much. 

Almonds are known to lower bad cholesterol (I use ground almonds in this recipe). These nuts are a rich source of vitamin E and they also contain high quality protein and are rich in dietary fibre, B vitamins, essential minerals and monounsaturated fat.

The sugar I use is xylitol - but you can replace this with caster/superfine sugar. Xylitol tastes like sugar and has a low GI – half that of fructose in fruit. I buy it in a health food shop.

And when it comes to butter, well, nowadays a lot of health experts are saying that a little bit of butter in your diet does no harm and is much better for you than most manufactured spreads. 

I rest my case!
 

This will make 10 blueberry friands:

100g, 3½oz, 0.9 stick, unsalted butter - softened

100g, 3½oz, ½ cup, xylitol (or use caster/superfine sugar)

2 large eggs, organic or at least free-range

125g, 4½oz, 1.1 cups, ground almonds

1 teaspoon baking powder

4 tablespoons milk

100g, 7oz, 0.7 cup, blueberries

1.    Pre-heat the oven to 180C/fan 160C/350F/gas mark 4. Line the holes of a muffin tin with medium-sized paper cases.

2.    Place the butter and sugar in a bowl and using a whisk, cream together until light and fluffy. Add the eggs one at a time, whisking well after each egg. Mix together the ground almonds and baking powder and using a large spoon, fold it into the bowl with the butter, sugar and eggs. Stir in the milk, followed by the blueberries.

3.    Divide the mixture between the paper cases and place the muffin tin in the oven. Bake for about 25 minutes. Leave the blueberry friands to cool in the tin.


Home Page > Cake Recipes > Blueberry Friands With Ground Almonds