Carrot And Soybean Fritters With Feta Cheese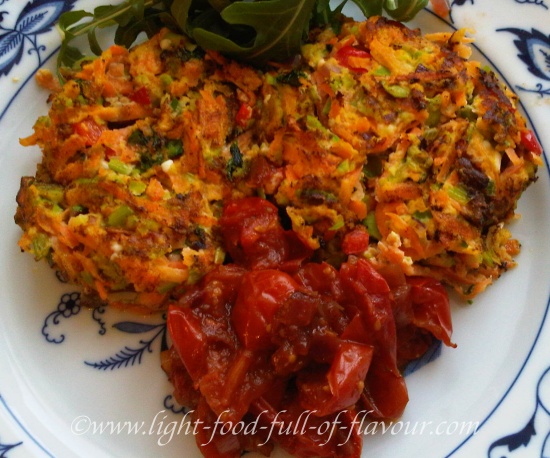 I'm not sure if I can call these carrot and soybean fritters with feta cheese for fritters as I make them without any flour. As well as having a thing about sugar in savoury food, I have another thing about flour in fritters.

I don't add any breadcrumbs either, which means that my fritters are a little bit tricky to turn over. They taste sensational though.

Using cooked and mashed edamame beans, immature green soya beans (soybeans), adds a lot of protein and soluble dietary fibre to the fritters. You'll find soya beans in the frozen section in supermarkets.

If you fry fritters in a frying pan you will have to use a fair bit of oil. I prefer to place mine on a baking tray covered with baking parchment and cook them in a relatively hot oven. Not only is this a much healthier and fat-free way of cooking, it's a lot less messy. And I am still calling them fritters!

I serve mine with oven-roasted tomatoes and onions. Add a mixed salad to the carrot and soybean fritters and this will make for a light and healthy lunch or dinner.


For 4 people:

400g, 14 oz, 2¼ cups, small tomatoes, like cherry or plum tomatoes, halved

½ large red onion, chopped

1 tablespoon olive or rapeseed oil

2 tablespoons balsamic vinegar

Salt and pepper
 

Fritters:

100g, 3½oz, 0.9 cup, cooked edamame beans (green soybeans), roughly mashed (use a potato masher)

300g, 10½oz, 3 cups, coarsely grated carrot

½ large red onion, finely chopped

4 spring onions, chopped

½ red pepper (bell pepper), chopped

Handful parsley leaves, roughly chopped

3 eggs

100g, 3½oz, ¾ cup, feta cheese, crumbled

Salt and pepper

1.    Preheat the oven to 220C/Fan 200C/425F/gas mark 7. Mix together the tomatoes, onion, oil and balsamic vinegar in a roasting pan. Season with salt and pepper and roast in the oven until the tomatoes start to blister (around 30 minutes). Give the mixture a stir mid-way through.

2.    Cover a baking tray with baking parchment. In a bowl, mix together all the ingredients for the fritters. Season with salt and pepper and mix thoroughly. Divide the mixture with a large spoon into 8 portions on the baking tray.

3.    Place the baking tray in the oven and cook the fritters for 4 minutes. Take the tray out of the oven and using two turners, or large spoons, carefully turn over the fritters. Don't fret if they fall apart a bit, they are easy to reshape with the utensils you are using. Place the tray back into the oven and cook for a further 3-4 minutes – until the fritters start to brown nicely.

Serve the carrot and soybean fritters with the oven-roasted tomatoes and a salad.