Chia Breakfast Pot With Coconut, Apple, Cinnamon And Turmeric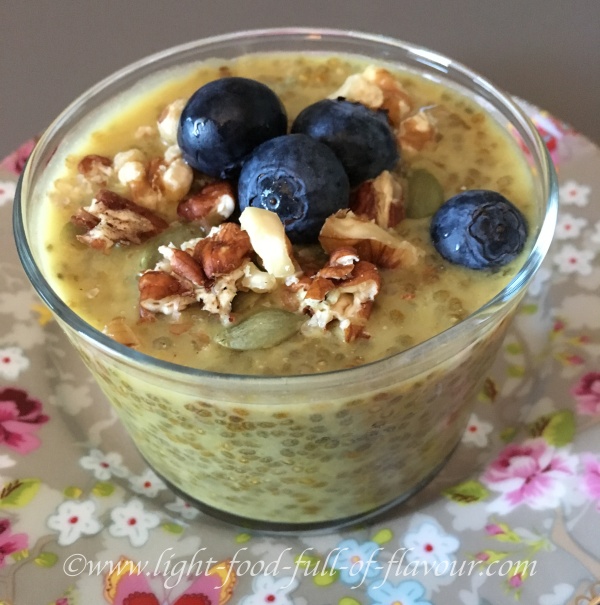 It's really easy to make this chia breakfast pot. And it's tasty. And healthy! 
You need to make it in advance though – minimum two hours - to allow the seeds to soak up the liquid you add them to.

I prepare it in the evening and leave it in the fridge overnight. All I do in the morning is add some fresh berries and some nuts to each portion.

This is a breakfast dish full of healthy nutrients – and it is an ideal thing to take with you if you are not eating anything at home before leaving for work. Any leftovers will keep in the fridge for the next day.

Chia seeds are rich in omega-3, fibre, antioxidants, calcium, iron and vitamins. These seeds can be absorbed by your body in their natural state – unlike flax seeds (linseeds) which will go straight through your body unless you grind them first or chew them really well.

Cinnamon and turmeric are two equally healthy spices. The important thing with cinnamon though is to eat the right kind if you are using it on a daily basis (see Cinnamon Spice)).

To make it more filling, top your chia breakfast pot with some yogurt – either natural Greek or soya yogurt – as well as berries and some nuts.

Fresh berries are full of antioxidants and are the best type of fruit to eat if you are watching your weight. 

I top my pot with some walnuts as well. While all nuts and seeds are full of healthy nutrients, walnuts are among the healthiest ones.

Chia Breakfast Pot for 4 people:

50g, 1 ¾oz, ¼ cup chia seeds

1 level teaspoon cinnamon (see above)

½ teaspoon ground turmeric

1 apple, coarsely grated
 ½ - 1 teaspoon honey, preferably raw (optional)
200ml, 7floz, 0.9 cup coconut milk

200ml, 7floz, 0.9 cup cold water

To serve:
Fresh berries – like strawberries blueberries or raspberries

Nuts/seeds – like walnuts, pistachios and/or pumpkin seeds
Yogurt (optional)
Mix together the chia seeds cinnamon and turmeric in a bowl. Add the grated apple and honey (if using) and stir through before adding the coconut milk and water to the bowl. Mix everything together thoroughly.

Divide the mixture between 4 bowls or glasses. Cover each bowl/glass and place them in the fridge for minimum 2 hours – or leave them overnight

Serve each portion with a dollop of yogurt (optional), fresh berries and nuts of your choice.