Chicken And Noodle Soup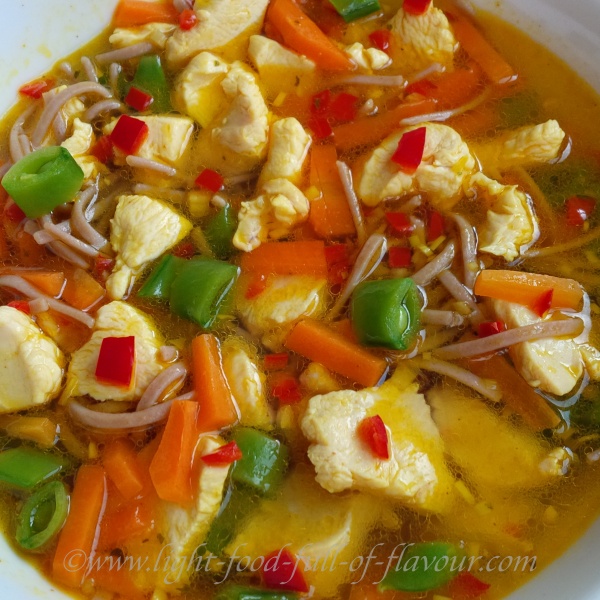 If it's true that chicken soup can help when you've got a cold, then this full-flavoured chicken and noodle soup should definitely do the trick.

This soup is a veritable natural pharmacy. Apart from the chicken - which is apparently good to eat to help cure a cold – there is healthy and tasty ginger, garlic, chilli and turmeric in my soup.

Colds aside, this is a good soup to warm you up on a cold weather's day. And while it is filling, it is still a light soup and perfect for anyone watching their weight.

I am using gluten-free soba noodles (made with buckwheat flour) in my soup but you can use other noodles – rice noodles or egg noodles, for example. Soba noodles are the healthiest type of noodles but the most filling type is probably egg noodles.

I add the sliced carrots and sugar snaps at the very end of cooking as I want them to still be crunchy.

If you have the time, then this soup really benefits from being cooked in advance (minus the noodles) as the broth infuses the chicken pieces when left to stand. Just be careful if you leave it for a long time - make sure you cover up the soup and place it in the fridge once it has cooled down.

Chicken And Noodle Soup For 4:

1 tablespoon coconut oil

2 garlic cloves, finely chopped

1 large red chilli, de-seeded and finely chopped

Thumb-size piece of fresh ginger, finely chopped

½ teaspoon ground turmeric

1.1  litre, 1.9 pints, 5 cups chicken stock

Finely grated zest of 1 unwaxed lime or lemon

1 teaspoon sesame oil

1½ tablespoon Thai fish sauce

Black pepper

4 chicken breasts, diced

1 medium-sized carrot, cut into thin matchstick-sized strips

150g, 5½oz sugar snaps, sliced

Juice of half a lime or lemon

200g, 7oz, noodles


1.    Place the coconut oil in a heavy-bottomed pot over a low heat. Add the chopped garlic, chilli, and ginger to the pot and fry for a couple of minutes - stirring continuously to make sure the garlic doesn't burn. Add the turmeric and continue to fry for a further minute.

2.    Add the chicken stock, grated lime or lemon zest, sesame oil, Thai fish sauce, diced chicken breast to the pot and season with some black pepper. Stir, increase the heat and bring to a simmer.

3.    Allow the soup to simmer for about 7 - 10 minutes – you want the cubed chicken to be cooked through but not dried out. Add the sliced carrots and sugar snaps during the last two minutes of cooking.

4.    While the soup is simmering, cook the noodles according to pack instructions. Divide the noodles between 4 large bowls, add the lime or lemon juice to the soup and ladle chicken soup into each bowl.

You can add extra garnish to the chicken and noodle soup – such as fresh coriander (cilantro) or sliced spring onions (scallions).