Chicken Curry With Lemongrass And Tomatoes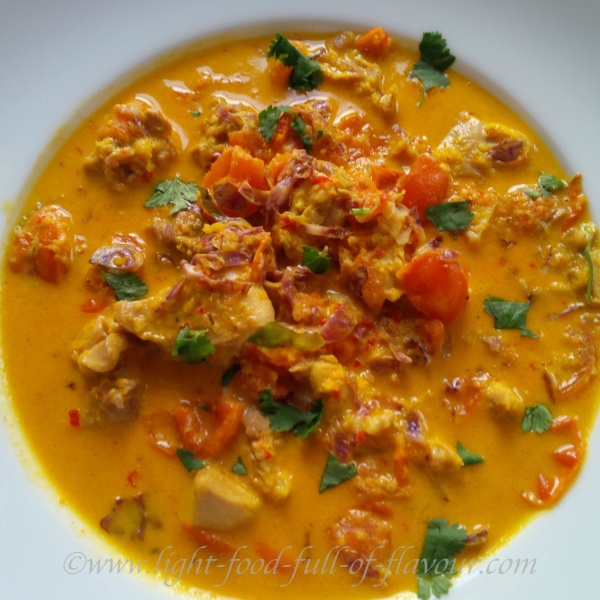 One word – YUMMY! I love this chicken curry with lemongrass and tomatoes.

Apart from all the lovely flavours, it is also healthy. Tomatoes are healthier when cooked – a rarity among vegetables – and I also add finely shredded Brussels sprouts to this curry.

Brussels sprouts may be an unusual vegetable to add to a curry but I think they are a perfect addition as they have a strong, somewhat peppery taste. I managed to get hold of purple-sprouting Brussels sprouts this time, but I also use the green ones.

They are super-healthy. Brussels sprouts are part of the family of cruciferous vegetables – which also include broccoli, cabbage, kale, cauliflower and cress – and contain anti-cancer and liver-friendly nutrients.

Cruciferous vegetables are best eaten raw or just lightly cooked. I only add the shredded Brussels sprouts during the last two minutes of cooking – leaving them still crunchy and with a fair amount of their nutrients still intact.

You can swap the sprouts for some spinach or some sliced sugar snaps – again only adding them at the last couple of minutes of cooking.

I am using boneless and skinless chicken thighs. If you want to use chicken breast instead, be careful not to dry out the meat.

If you can't get hold of lemongrass, use finely grated zest of an un-waxed lime or lemon instead.


Chicken curry with lemongrass and tomatoes for 4 people:

For the paste:

3 tablespoons coconut oil (melted if solid) – or use vegetable oil

2 shallots, chopped

2 garlic cloves, chopped

Thumb-sized piece of ginger, chopped

2 lemongrass stalks - cut off the thinner top, leaving you with the "bulb" at the bottom, discard tough outer layer, cut off the bottom of the "bulb", halve it and slice very finely

2 red chillies, deseeded (or leave the seeds in for a spicier curry) and chopped

A small handful of coriander (cilantro) - stalks only, chopped – keep the leaves for garnish


For the rest of the curry:

1 teaspoon turmeric

¼ teaspoon black pepper

20 cherry tomatoes, quartered

400ml, 14½floz, 1¾ cups coconut milk

1 teaspoon honey

1½ tablespoon Thai fish sauce

8 boneless and skinless chicken thighs (preferably organic or free-range) - cut into bite-size pieces

10-12 Brussels sprouts, trimmed, halved and finely sliced (optional)

1 tablespoon fresh lime juice


1.    Place the coconut oil, shallots, garlic, ginger, lemongrass, chopped chilli, and coriander stalks in a food processor and pulse to a rough paste.

2.    Place all of the paste in a pan over a medium-high heat. Add the turmeric and black pepper to the pan and fry - stirring continuously - for 5 minutes. Add the tomatoes and continue to fry for a further 5 minutes.

3.    Add the coconut milk, honey and fish sauce to the pot, stir and bring to a simmer. Add the chicken pieces, stir and allow the curry to simmer for about 20 minutes – give the curry a stir every now and then - until the chicken is cooked through. If using, add the shredded Brussels sprouts during the two last minutes of cooking.

4.    Once ready, take the pan off the heat and stir in the lime juice and coriander (cilantro) leaves.

I serve this chicken curry with lemongrass with either quinoa or brown basmati rice.