Chicken With Spicy Mash And Wasabi Mayonnaise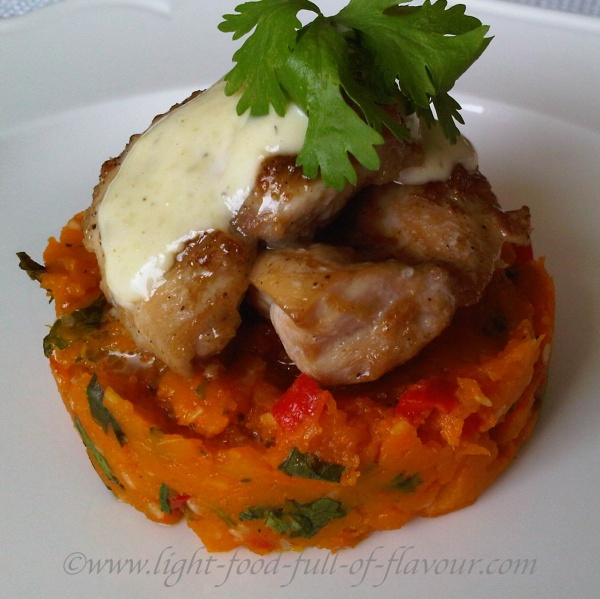 Bring on the flavours - marinated chicken with spicy mash and wasabi mayonnaise. 
I use moist and juicy chicken thighs and marinate them for a couple of hours before cooking them. If you've got the time, you can leave the chicken to marinate overnight.
The marinade is easy to make and full of flavour thanks to healthy and super-tasty freshly grated ginger and crushed garlic.
Ginger and garlic are really healthy on their own but are even better together, with high levels of both antioxidant and anti-inflammatory properties. 

Apart from the wasabi mayonnaise, I also serve the chicken and spicy mash together with steamed green beans and broccoli. I always include some dark green vegetables with my meals as they truly are super-foods.


Recipe For Chicken With Spicy Mash
For 4 people:
Marinade for the chicken:

2 garlic cloves, crushed

2 teaspoons finely grated fresh ginger

2 tablespoons light soya sauce

2 tablespoons coconut oil - or use vegetable oil

½ teaspoon black pepper


8 boneless and skinless chicken thighs - each thigh cut in half

1 medium butternut squash, peeled, halved, deseeded and diced

1 large red chilli, deseeded and finely chopped (leave the seeds in if you want more heat)

1 tablespoon coconut oil - or use vegetable oil

Salt and pepper


2 tablespoons sesame seeds

2 large handfuls fresh coriander, chopped


1 teaspoon wasabi paste

1 tablespoon mayo
Green beans and/or broccoli


1.    Mix together the ingredients for the marinade in a non-metallic bowl. Add the halved chicken thighs to the bowl and mix well. Cover the bowl and leave in the fridge for at least 1 hour – longer if you have the time.

2.    Pre-heat the oven to 220C/fan200C/425F/gas mark 7. Place the diced butternut squash and chopped chilli in a roasting pan, add the oil, season with a bit of salt and pepper and toss everything together. Bake in the oven for about 30 minutes – giving the squash a stir mid-way through – until the butternut squash is soft and golden.

3.    Take out the marinated chicken from the fridge and place the chicken thighs flat in an oven dish. Pour over all the marinade. When the butternut squash has been in the oven for 15 minutes, place the dish with chicken in the oven as well and cook for about 15-17 minutes, until the chicken is completely cooked through.

4.    Mix together the wasabi paste and mayo and leave to the side. Steam or lightly cook green beans and/or broccoli for 5 minutes.

5.    Use a potato masher to mash the butternut squash and chilli. Add the sesame seeds and chopped fresh coriander to the mash and divide the mash between 4 plates. Place the chicken on top of the mash and add a dollop of wasabi mayo on top of the chicken and serve with the green beans and/or broccoli.