Chilli Ginger Salmon With Green Vegetable
Stir-Fry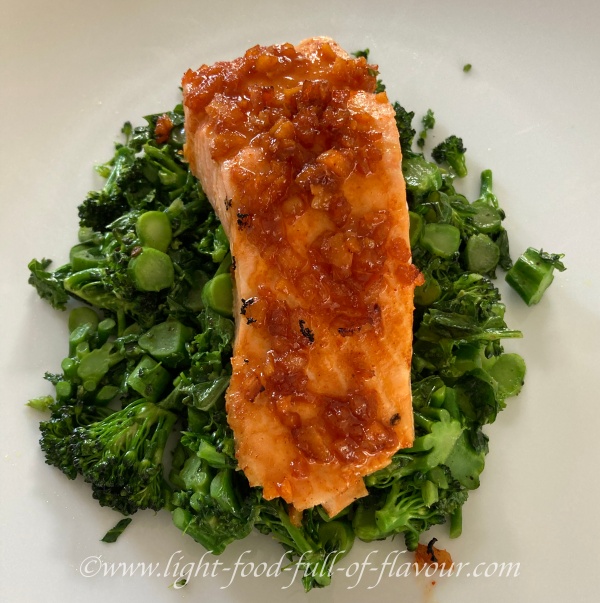 Full of flavour yet light and healthy chilli ginger salmon with green vegetable stir-fry.
This recipe is a combination of some of my favourite types of food - salmon, chillies, ginger and dark green vegetables. I eat salmon at least twice a week, and I try to incorporate dark green vegetables into one meal per day. 
I've had these two ingredients staring me in the face every time I've opened my fridge - my own pickled ginger and "Gochujang", a very spicy Korean chilli paste. Both last for a long time in the fridge and both are great to add to a marinade.
You can swap pickled ginger for grated, fresh ginger and use any type of hot chilli paste for the marinade.
Pickled ginger has a sweet and sour taste. If you are using fresh ginger instead, add 1 teaspoon of honey to the marinade as well.
I am using broccolini/tenderstem broccoli, some salty samphire and curly kale for my stir-fry but you can use other green vegetables - like shredded Brussel sprouts, sliced cavolo nero (another type of kale) and shredded cabbage.
There's no need to add salt to the stir-fry if you are adding samphire (which is quite salty) - but if not just add some sea salt.
I often use avocado oil for high-heat cooking - like stir-frying - but you can also use coconut oil for this stir-fry. 
Recipe For Chilli Ginger Salmon With Green Vegetable Stir-Fry
For 4 people
Marinade:

2 tablespoon coconut oil - melted
1 tablespoon pickled ginger - finely chopped - or use grated fresh ginger and add 1 teaspoon honey as well
1 heaped teaspoon hot chilli paste
2 garlic cloves - crushed/minced
1/2 teaspoon sea salt
4 salmon fillets
For the green vegetable stir-fry:
1 tablespoon of either coconut or avocado oil
200g broccolini (tenderstem broccoli) - thinly sliced
2 handfuls samphire - chopped
2 large handfuls kale - chopped
1 teaspoon ground ginger
Black pepper
1. Preheat the oven to 220C/ Fan 200C/425F. In a bowl, mix together the ingredients for the marinade. Cover a baking tray with baking/parchment paper and place the salmon fillets on top. Divide the marinade between the salmon filets and place the tray in the oven for about 10 -11 minutes, until the salmon is cooked.
2. When the salmon has been in the oven for five minutes, add the oil to a wok or large frying pan over a medium-high heat. Once the oil is hot, add all the vegetables and season with the ground ginger and some black pepper. Keep stirring for about 4-5 minutes. I like my vegetables to still be crunchy. 
3. Divide the vegetables between four plates and top each with a salmon fillet.
Home Page > Fish And Seafood Recipes > Chilli Ginger Salmon With Green Vegetable Stir-Fry