Chocolate And Raspberry Brownies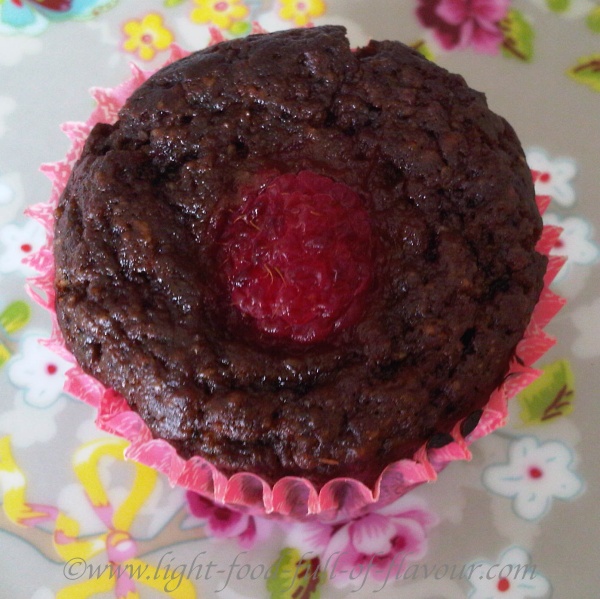 Can cakes ever be good for you?

These miniature chocolate and raspberry brownies are made with antioxidant-rich dark chocolate, nutritious almonds, spelt flour and xylitol - which looks and tastes like sugar but has very little effect on raising your blood sugar.

I read about xylitol a while ago and finally got around to try it. And now that I have, I won't use sugar again. Xylitol is a vegetable sugar which is similar to fructose in fruit and has a very low GI.

I'm not sure if it is sold in supermarkets. I buy it from health food shops. And you can of course use caster sugar (superfine sugar) instead of xylitol.

The one thing to keep in mind when using xylitol is that it hasn't got the preserving factor that normal sugar has. I have tried making things like quince jelly using xylitol in place of sugar. It didn't work.

The only really naughty thing in these cakes is the butter – but considering how small I make these brownies they won't affect your weight too much if you eat no more than one or two.

Some weight-friendly advice: As these cakes will not last for that many days if you use xylitol, make sure you've got plenty of friends and family around when baking them!

 
To make 22 miniature chocolate and raspberry brownies:

100g, 3½oz, slightly less than a stick, unsalted butter

100g, 3½oz, 70% dark chocolate

2 eggs, organic or at least free-range 

140g, 5¼oz, 0.7 cup xylitol – or use caster (super-fine) sugar

60g, 2oz, ½ cup, ground almonds

60g, 2oz, 0.4 cup white spelt flour – or use plain white flour

1 teaspoon baking powder

22 raspberries

1.    Pre-heat the oven to 180C/fan 160C/350F/gas mark 4. You can use individual small muffin cases or silicon trays - place whatever you chose on a baking tray.

2.    Place the butter and chocolate in a bowl over a pot with simmering water (the bowl must not touch the water) and stir until melted. Remove the bowl from the heat and leave to cool down slightly.

3.    Add the eggs, sugar and ground almonds to the bowl and mix together. Mix together the flour and baking powder and sieve the mixture into the bowl. Stir everything together quite quickly.

4.    Divide the mixture between the miniature muffin cases and push a raspberry into each. Place the baking tray in the oven and bake the brownies for 16-17 minutes (they should still be soft in the middle). Allow to cool before serving.