Ginger Root - A Fiery Healer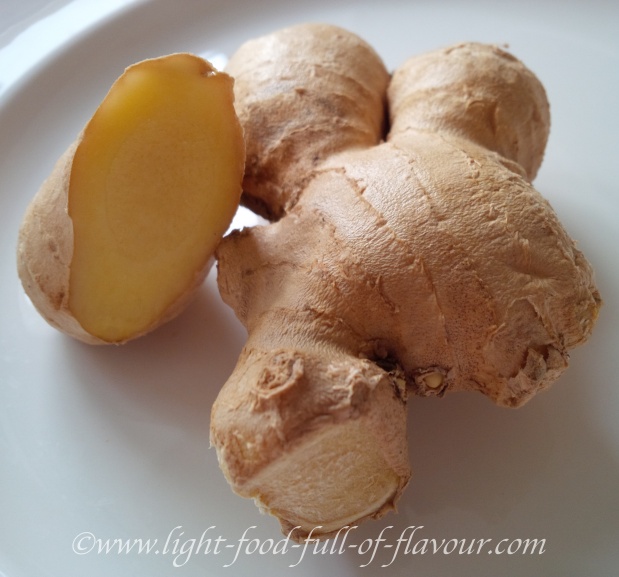 Ginger root - a fiery healer that really packs a punch – both taste-wise and health-wise!
Ginger is very good for sore throats and stomach upsets.

If you have got a sore throat, try simmering six slices of ginger with 3 black peppercorns for five minutes. Pour through a sieve into a cup and add a pinch of baking powder (helps to soothe a sore throat), juice of half a lemon and a teaspoon of raw honey. 
I also make tea with fresh ginger root by adding slices of fresh ginger to simmering water together with some mint leaves. I leave it to simmer for five minutes before sieving off the sliced ginger and mint and serve the tea with a squeeze of lemon juice and some raw honey. I love it!

Another tasty way to make ginger tea is to simmer sliced ginger with a cinnamon stick for 5 minutes. Again, you can add some lemon juice and honey for taste.

Ginger- as well as turmeric, another spice which is frequently used in Indian food – are natural painkillers. Both help to reduce the over-production of leukotrienes that cause pain and inflammation. 

It is definitely worth eating a lot of ginger and adding turmeric spice (a 1/4 teaspoon per day is enough) to your food if you have arthritis.
I cook a lot of Asian-style food and use ginger in all of these dishes. The hot and spicy flavour of ginger is perfect for this type of food.

It is great to use for both marinades and different curries. 
Different Ways To Use Ginger Root
An easy way to use fresh ginger is to add it to a marinade which you can use on vegetables, fish or chicken. I am going to give you two examples of delicious marinades.


This is a marinade that I like to use on salmon or trout fillets and it's equally good on halloumi cheese:

3 teaspoons grated fresh ginger

2 garlic cloves, crushed

Zest of 1 unwaxed lime or lemon + 1 tablespoon lime or lemon juice

1 tablespoon coconut oil (melt it first if solid) or vegetable oil

1 teaspoon honey (I use raw honey)

1 level teaspoon sea salt and some pepper


Mix all the ingredients together and divide over 4 salmon or trout fillets. Heat the oven to 200C/fan180C/400F/gas mark 6. Once the oven is hot, cook the fish in the oven for about 10 minutes.


This marinade is equally good for vegetables, chicken and fish:

1 large red chilli, deseeded and roughly chopped 

2 garlic cloves, crushed

25g coriander (cilantro) - leaves and stalks roughly chopped

3 teaspoons finely grated ginger

1 ½ teaspoon honey

2 tablespoons soy sauce

Juice of 1 lime

1 tablespoon coconut oil – or use vegetable oil


Place all the ingredients for the marinade in a blender and blend until everything is well combined.
Celery, Cucumber and Ginger Juice


Another way to use ginger is to make a super-healthy celery, cucumber and ginger juice.
I put 3 washed and chopped celery stalks, half a chopped cucumber and half a thumb-sized piece of ginger through a juicer.
This juice has a serious kick to it and is full of vitamins, minerals and antioxidants. 
Home Page > Healthy Weight Loss Diary > Ginger Root - A Fiery Healer