Gluten-Free Quinoa Quiche With Mushrooms And Zucchini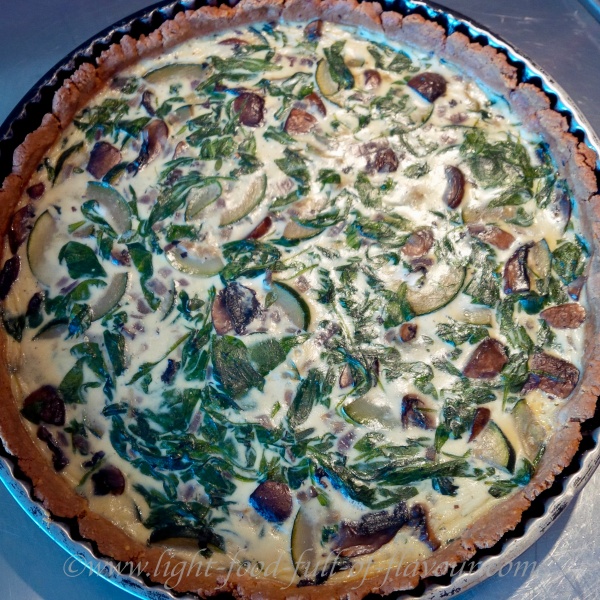 I had request for a gluten-free quinoa quiche and I made one with mushrooms and zucchini.

I used a recipe from a cook book called "Super grains and seeds" by Amy Ruth Finegold and made some changes to it.

As per usual, I make my pastry by hand. It worked really well with the ingredients I used for this recipe. I was happy to see that the pastry case didn't need any blind-baking (this is when you cover the case with baking parchment and baking beans). It held its' shape beautifully without doing this.

The person I made this for only eats dairy products made from goat's milk. I used goat's yogurt in the pastry and the filling – plus goat's cheese in the filling. You can swap the goat's yogurt for ordinary yogurt or crème fraiche – and the goat's cheese for feta cheese or parmesan cheese.


For the gluten-free quinoa quiche pastry:

125g, 4½oz, 2/3 cup quinoa flour

40g, 1½oz, 1/3 cup corn starch

35g, 1¼ oz, ¼ cup ground flax seeds (linseeds)

110g, 3¾oz, 1 stick (8 tablespoons) lightly salted butter, cubed

2 tablespoons goat's yogurt


For the filling:

2 tablespoons olive oil

1 large red onion, finely chopped

1 garlic clove, crushed/minced

200g, 7oz, 3 cups, sliced mushrooms – like chestnut mushrooms

1 medium-sized courgette-zucchini, halved and thinly sliced

1 teaspoon fresh thyme leaves – or ¼ teaspoon dried thyme

100g, 3½oz, 4 cups fresh spinach

3 large eggs – or 4 medium

100g, 3½oz, 0.4 cup soft goat's cheese

5 tablespoons goat's yogurt

Salt and pepper


Pie dish, approximately 23cm/9in in diameter


1.    Pre-heat the oven to 200C/fan 180C/400F/gas mark6. To make the pastry - in a bowl, mix together the quinoa flour, corn starch and ground flax seeds. Add the cubed butter to the bowl and with your hands, quickly work the ingredients together. Add the goat's yogurt and work this in as well. You should end up with a quite soft dough.

2.    Flatten out the dough and place it in the middle of your pie dish. With your fingers, keep pushing out the dough from the middle towards and then up the sides of the dish until it looks reasonably even (see Pastry For Quiche). Place the pie dish in the fridge for 30 minutes.

3.    While the pastry is in the fridge, add the oil and chopped onion to a large frying pan over a medium high heat and fry for five minutes. Add the garlic, mushrooms, courgette and thyme to the pan and continue to stir and cook for a further 10 minutes. Add the spinach and keep stirring until the spinach has wilted – it should only take a minute or two. Season with some salt and pepper and remove the pan from the heat. Drain any excess liquid from the vegetable mixture and leave to cool down.

4.    Remove the pie dish from the fridge and use a fork to prick the pastry all over the bottom. Place it in the oven and bake for 15-17 minutes, until the pastry starts to brown and the bottom of the pastry is properly baked through and dry. Take it out of the oven and leave it to cool down a bit.

5.    In a bowl, mix together the eggs, soft goat's cheese and goat's yogurt. Season with some salt and pepper and add the cooked vegetable mix to the bowl. Pour the mix in to the pastry case and bake in the oven for about 25 minutes, until the top is slightly golden.