Harissa Chicken Wraps With Lime Pickled Onion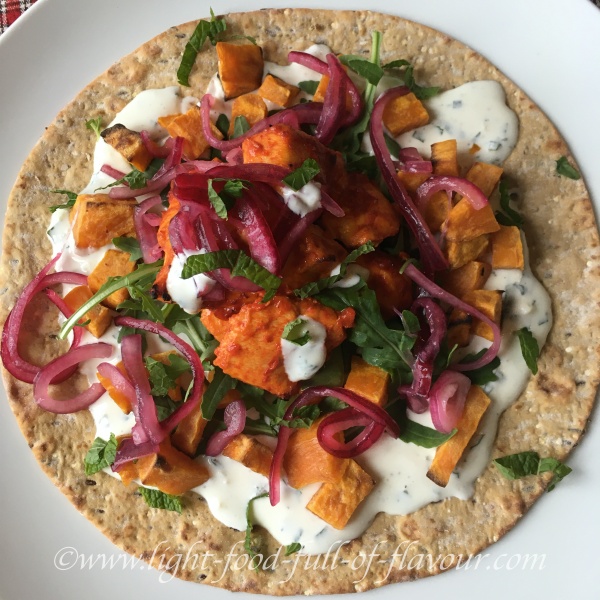 I love these incredibly tasty harissa chicken wraps with lime pickled onion - they are proper crowd-pleasers.
I make my own harissa from scratch – including roasting fresh peppers (bell peppers). You can buy roasted peppers in jars and that will enable you to make your own delicious harissa in no time at all.

The harissa can be made a day in advance. 

The easiest, and less messy, way to cook the chicken is by slicing the chicken into thin strips, mix them with harissa and then spread out the slices on a baking tray. The chicken slices only need 8 minutes in a hot oven.

Apart from the harissa chicken I top my wraps with mint and garlic yogurt, rocket/arugula leaves, oven-roasted, diced sweet potato and lime-pickled onion.

Harissa chicken wraps with lime pickled onion for 4 people:
Roasted peppers (bell peppers) for the harissa:

2 large red peppers (bell peppers)

A dash of olive oil

Start by roasting 2 red peppers. Preheat the oven to 230C/fan 220C/ 455F/gas mark 8. Put the peppers into a roasting tray with a dash of olive oil and cook for 15 minutes, turning them from time to time, or until the skins blacken. Place the peppers into a bowl and cover with cling film. Set aside for 15 minutes, until the skin comes off easily. Break the peppers open, pull out and discard the stalks, pith and seed and peel off the skin.

For the harissa:

2 roasted red peppers (bell peppers) - either roast them as per above or use ready roasted peppers that you buy in a jar

3 teaspoons tomato puree

2 teaspoons ground coriander (cilantro)

A good pinch of saffron strands

1-2 large red chillies (depending on how hot you like it to be - I use 1), deseeded and finely chopped

½ teaspoon salt

2 tablespoons olive oil

Put all the ingredients into a food processor and process to a smooth paste. 

For the lime-pickled onion: 

1 medium-sized red onion – halved and cut into thin strips

1 tablespoon sea salt or fine Himalayan crystal salt

Juice of 1 lime

Place the sliced onion strips in a non-metallic bowl and add one tablespoon of salt. Use your hands to mix the salt and onion strips. Leave for 10 minutes before placing the onion strips in a sieve and rinse off the salt under cold water. Drain and place the onion strips back in the rinsed out bowl and add the juice of 1 lime and mix. Leave to the side.

For the wraps:

1 large sweet potato – peeled and diced

1 tablespoon Extra virgin olive oil

3-4 chicken breasts – sliced into thin strips and added to a non-metallic bowl together with the harissa – mix well

200g, 7oz, 1 cup natural yogurt

1 large garlic clove – crushed/minced

handful of mint leaves –finely sliced

½ teaspoon salt 

¼ teaspoon black pepper

Rocket/arugula leaves

4 wraps
Preheat the oven to 230C, fan 220C, 455F, gas mark 8. Add the diced sweet potato and olive oil to an oven-proof dish and toss together. You will need to cover the dish with foil to start with to avoid burning the diced potatoes. Cook for 15 minutes, remove the foil and return the dish to the oven for a further 8 minutes.

Spread out the harissa-marinated chicken slices on a large, baking tray and add the tray to the oven when you take off the foil from the sweet potatoes. Cook for about 8 minutes together with diced sweet potatoes.

While the chicken and sweet potatoes are in the oven, mix together the yogurt, mint, garlic, salt and pepper in a bowl.

Top each wrap with the yogurt mix, rocket/arugula leaves, diced sweet potatoes, harissa chicken and pickled onions. Roll up and enjoy!
Home Page > Chicken Recipes > Harissa Chicken Wraps With Lime Pickled Onion