Japanese-Style Beef With Marinated Cucumber And Carrots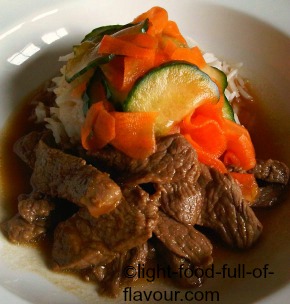 I've been to a couple of sushi restaurants recently and I felt an urge to cook Japanese food afterwards. Everything I'd eaten – from sushi to salads and hot main courses - had been so incredibly tasty.

So I started to look at recipes for Japanese hot dishes and vegetables and goodness me, what an amazing amount of sugar they use in a lot of dishes!

It seems counter-productive to me when you add 3 tablespoons of sugar to a marinade and then pour it over otherwise healthy vegetables. I can't see the need for the sugar when there are so many other tasty ingredients in the marinade.

I used a recipe I had for Japanese-style beef with marinated cucumber and carrots and swapped the sugar in the vegetable marinade and stock for the beef for a bit of honey, and cut down on the amount of soya in the stock. It tasted amazing!

 
For 4 people:

Vegetable marinade

3 tablespoons rice vinegar

1 teaspoon soy sauce

1 heaped teaspoon honey (I use raw Manuka honey)

A good pinch of salt and pepper

½ cucumber, sliced really thinly

1 medium-sized carrot, cut into thin ribbons (use a potato peeler)

 
Stock:

½ green pepper (bell pepper), diced

½ green apple, diced

½ yellow onion, diced

1 fat garlic clove, sliced

Thumb-sized piece of fresh ginger, sliced

200ml, 7floz, 0.9 cup water

4 tablespoons soya sauce (I use organic gluten-free Tamari soy sauce)

1 tablespoon mirin (you can find this in most well-stocked supermarkets)

3 tablespoons rice vinegar

1 teaspoon honey

1 teaspoon sesame oil
 


1-2 tablespoons vegetable or groundnut oil

500g, 1lb2oz, sirloin or fillet of beef, sliced very thinly

Salt and pepper

Basmati rice - or use quinoa (healthier and better for your weight)


1.    Using a whisk, mix together the ingredients for the marinade in a bowl. Add the thinly sliced cucumber and carrot ribbons to the bowl, mix well, cover the bowl and place it in the fridge. Leave to marinate for 1 hour (give the vegetables a stir half-way through).

2.    Once the vegetables have been marinating for 30 minutes, place all the ingredients for the stock in a pot and bring to a simmer. Simmer for 30 minutes before straining the stock through a sieve into a clean pot.

3.    While the stock is simmering, cook the rice or quinoa according to pack instructions.

4.    Heat the oil in a large frying pan or wok over quite a high heat. Once the oil is sizzling, quickly stir-fry the sliced beef - until browned - and season with salt and pepper. Transfer the beef to the pot with the stock and bring to a simmer for 1 minute.

5.    Place a portion of rice/quinoa in 4 bowls or deep plates, divide the Japanese-style beef and stock between the bowls and top with the marinated vegetables.