Lamb And Beetroot Burgers With Feta And Garlic Sauce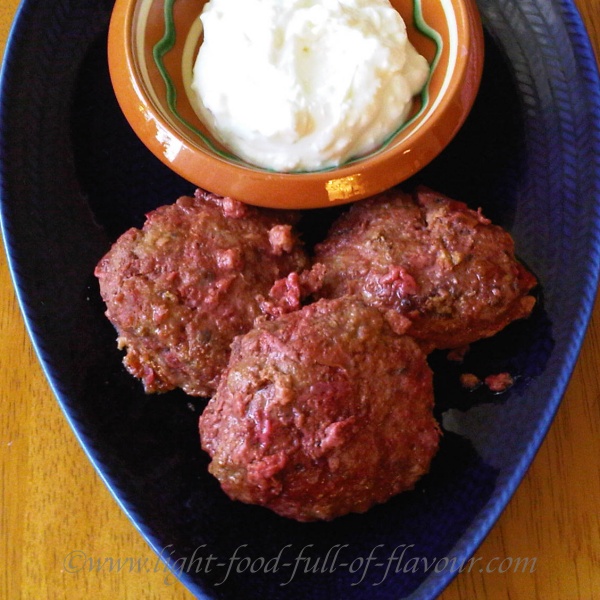 It is an incredibly tasty combination - juicy lamb and beetroot burgers with a feta cheese and garlic sauce. These are a few of my favourite things – lamb, beetroot and above all, feta cheese…

I won't go as far as calling it an addiction but I do love this type of cheese and I use it quite a lot both in hot and cold dishes. This love of feta blossomed unhindered the winter I lived in Greece, on the island of Crete.

I lived in a small village up in the hills and in the little village shop, behind the counter, stood two massive tins each containing a huge block of feta cheese. The owners would happily allow you to try each one to see which one you preferred and once you had chosen one, they'd cut as big a piece as you wanted out of the block.

Those were my feta days! I loved eating nothing but some bread and a piece of feta with some local olive oil drizzled over it and scattered with some dried herbs like thyme, oregano and rosemary (which all grow on the island). Or I cooked large white beans in a tomato, garlic and herb sauce to go with my feta, or… I'll stop there.

There are a fair few recipes on my website where feta cheese plays a part.

Tip! When buying feta cheese, make sure it says that it's made from sheep and goat's milk – there are some bad imitations out there made from cow's milk.


I serve these lamb and beetroot burgers on toasted sourdough bread, topped with the feta cheese and garlic sauce and with oven-roasted, tasty-healthy-low-calorie sweet potatoes on the side.

Yep, sweet potatoes are another great love of mine, and I use them A LOT.

Add a salad with different green leaves and juicy tomatoes sprinkled with a little olive oil and balsamic vinegar and you've got a super-tasty and very healthy meal in front of you.


For 4 people:

4 small sweet potatoes cut into wedges

Olive oil


Burgers:

500g,1lb 2oz, 2¼ cups (firmly packed), lamb mince

1 medium-sized red onion, finely grated

1 large raw beetroot, finely grated

1½ teaspoon ground coriander

1½ teaspoon ground cumin

Salt and pepper


4 slices of sourdough bread, or some other good bread


Feta and garlic sauce:

100ml, 3½floz, ½ cup, natural or Greek yogurt

1 large garlic clove, crushed

100g, 3½oz, ¾ cup feta cheese, crumbled

Salt and pepper

1. Heat the oven to 200C/fan 180C/400F/gas mark 6. Toss the sweet potato wedges with 1 tablespoon olive oil. Place the wedges on a baking tray, sprinkle some salt over them and cook in the oven for 20-25 minutes until tender.

2. Mix together all the ingredients for the feta and garlic sauce and leave it to mature.

3. Mix together all the ingredients for the lamb burgers in a bowl, season the mixture with salt and pepper. With your hands, mould the mixture into 4 patties. Brush the patties with oil and heat a frying pan. Cook for about 4 minutes on each side until browned and cooked through.

Toast the bread, and top each slice with one of the lamb and beetroot burgers and add some feta cheese and garlic sauce to each burger. Serve with the sweet potato wedges on the side.


Home Page > Lamb And Beef Recipes > Lamb And Beetroot Burgers