Lamb Biryani With Saffron Rice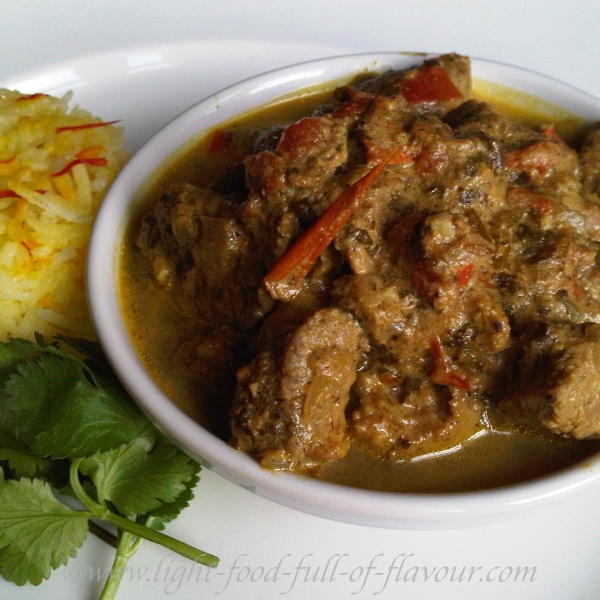 In a traditional lamb biryani you cook the meat and rice together in a sealed pot. But I prefer to cook my marinated lamb and saffron rice separately.

This is a dish that takes a bit of time to make – mostly because you marinate the meat overnight – but it is really worth it!

If you've got the time, cook the lamb in the morning and leave it to "mature" until serving it in the evening. Not only will the taste have improved but you've only got the rice and some vegetables to cook before serving it, making it a great dish to cook when you are having guests.

I am using mostly whole spices that I grind to a powder myself but you can swap most of whole spices for ground spices.

Even though there are a fair amount of ingredients in this recipe, it is not difficult to make.

 
Lamb biryani for 6 people:

For the marinade:

6 cardamom pods - open the pods and take out the seeds inside, discard the outer shell

5 cloves (or ½ teaspoon ground cloves)

3 teaspoons coriander seeds

2 teaspoons cumin seeds

½ teaspoon fennel seeds

½ teaspoon black pepper corns

1 teaspoon ground cinnamon

1 teaspoon ground turmeric

1 teaspoon ground ginger

5cm, 2inch, piece of ginger – peeled and finely grated

3 garlic cloves, crushed

3 large red chillies, deseeded and finely chopped

A handful each of fresh mint (leaves only) and coriander (leaves and stalks), finely chopped

2 tablespoons water

 
1kilo, 2 1/4lb, boneless lamb leg or shoulder, cubed

 
2 tablespoons coconut or vegetable oil

1 large red onion, finely chopped

4 medium-sized ripe tomatoes, chopped

250ml, 8 ¾floz, 1.2 cups, natural yogurt

50ml, 2floz, ¼ cup, water

Salt


250g, 9oz, 2 ¼ cups, basmati rice

600ml, 20floz, 2.7 cups, water

½ teaspoon salt

2 whole cloves

3 cardamom pods, bruised

A good pinch of saffron strands

1.    Grind the cardamom seeds, cloves, coriander, cumin, fennel seeds and black pepper corns to a fine powder in a pestle and mortar or spice grinder. Place in a non-metallic bowl and add the ground cinnamon, turmeric and ginger. Add the grated fresh ginger, crushed garlic, chopped chillies, mint, coriander and the water and mix together. Add the cubed lamb to the bowl and toss together. Cover and leave to marinate in the fridge overnight. 

2.    Heat the oil in a large heavy-based saucepan or casserole over a low heat. Place the chopped onion in the pan and stir and cook for 5 minutes. Add the chopped tomatoes and continue to cook for a further 5 minutes.

3.    Increase the heat to medium-high. Add the lamb, all the marinade and the water to the pan. Season with some salt and stir. Bring to a simmer and cook over a low heat for about 1 ½ hour, or until the meat is really tender. Taste and check the seasoning.

4.    Place the rice, water, salt, cloves, cardamom pods, and saffron in pot with a lid. Stir and bring to a simmer. Cover with a lid and simmer over a low heat for 10 minutes. Remove the pan from the heat and leave to stand for a couple of minutes before fluffing up the rice with a fork. Remove the cloves and cardamom pods before serving.

I serve the lamb biryani with steamed green beans and sugar snaps. And I sometimes cook a large, diced sweet potato together with the lamb – it's a great combination.