Leek And Courgette Quiche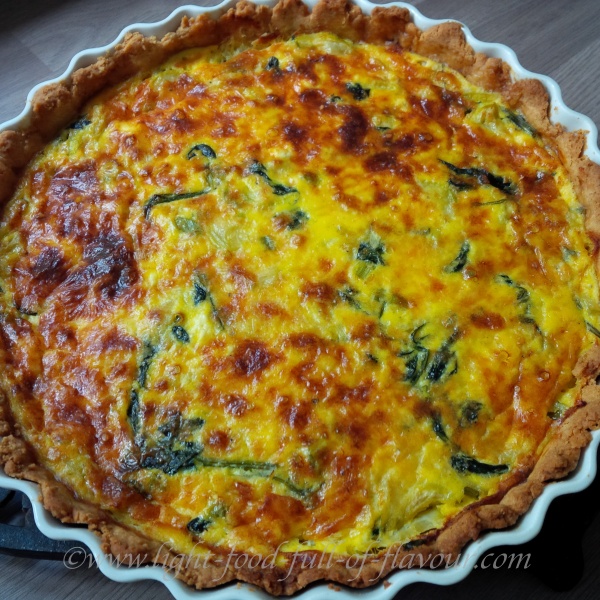 I often make quiches with whatever ingredients I happen to have at hand.

This leek and courgette quiche came about when I was visiting a friend. She asked me if I could make something from the vegetables she had at home.

I like being asked to create a dish from whatever is at hand. This time I found a lot of green vegetables (including thyme and rosemary growing in her garden) that I felt would go well together, so set about creating the following quiche.

I used a mix of white and wholegrain spelt flour for the pastry, as well as some cottage cheese. I like a vegetable quiche to have a more robust, earthy tasting pastry case - it's a good combination.
Leek And Courgette Quiche
For the pastry recipe, click on: Pastry For Quiche. (I used 1/3 white spelt flour and 2/3 wholegrain in the pastry.)
1 medium sized leek, properly rinsed, halved and sliced

1 medium sized zucchini (courgette), halved and sliced

A couple of sprigs each of thyme and rosemary (optional), stalks removed and leaves chopped

2 tablespoons olive oil

100g, 3½oz, 3½ cups, fresh spinach

2 spring onions (scallions), chopped

3 eggs, organic or at least free range

175g, 6oz, ¾ cup, cottage cheese (or use natural yogurt or crème fraiche instead)

100g, 3½oz, 1 cup, Parmesan cheese, grated
Salt and pepper

1. While the pastry case is cooking in the oven (200C/fan/180C/400F/gas mark 6), gently fry the leek and zucchini (courgette) together with the thyme and rosemary, if using, in the oil in a large frying pan for about 10 minutes.

2. Add the spinach to the frying pan and stir until the spinach has wilted. Take the pan off the heat and add the spring onion (scallion). Let the vegetable mix cool down to room temperature.

3. In a bowl, mix the eggs, cottage cheese and Parmesan together. Add the vegetable mix to the bowl and season with some salt and pepper. Taste and check the seasoning. When the pastry case is ready, pour the mixture into the case and bake in the oven for approximately 25 minutes – until the filling is set and nicely browned on top.

Serve this leek and courgette quiche together with a salad containing lots of different coloured vegetables to make the meal healthier, tastier and full of texture.