Lemon Sole With Capers And Mushy Peas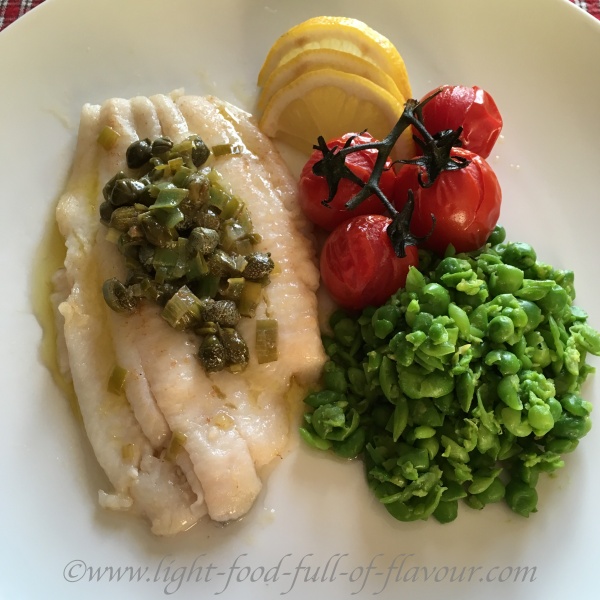 Light, tasty and healthy - lemon sole with capers and mushy peas.
Lemon sole, native to Northern Europe , is a delicate type of flatfish. It's a favourite fish of mine and I often use it in my work as a chef.
You can use other types of sole or flounder fillets for this tasty and healthy dish.
I've chosen to serve the fish with oven-roasted tomatoes and my version of mushy green peas.
Tomatoes are healthier when cooked as it releases more lycopene, a cancer-fighting antioxidant, and even more so with some added extra virgin olive oil.

Green peas are high in fibre, protein, vitamins, minerals and lutein. They are loaded with antioxidants and anti-inflammatory nutrients.
I always have peas in my freezer. When I don't feel like spending too much time cooking, I whip up a super-quick soup with a mix of green peas, ground ginger, black pepper, salt and either kale, spinach or broccoli. 
It doesn't take that much longer to cook this lemon sole with capers and mushy peas to be honest. So it's winner in every sense to me.
Note: Fish like sole fillets needs very little cooking. To make sure that I don't over-cook the fish, I flash-fry the fillets two at a time and then place them on a baking tray covered with parchment  (baking) paper. Once all the fish has been fried, I place the tray in a pre-heated oven for no more than 2 minutes. 
Lemon Sole With Capers
For 4 people:
16-20 small ripe tomatoes
a drizzle of extra virgin olive oil
400g, 14oz, 2 1/2 cups, frozen peas
1 tablespoon butter
1 teaspoon sea salt
1/2 teaspoon black pepper
4 lemon sole fillets (or any other type of sole, or use flounder)
1 tablespoon extra virgin olive oil
1 tablespoon butter
2 tablespoons capers
2 spring onions (scallions), chopped
juice of half a lemon
lemon slices to serve
Preheat the oven to 200C/fan180C/400F/gas mark 6. Place the tomatoes in an oven-proof dish, drizzle over a little olive oil and place the tomatoes in the oven for 10 minutes.
While the tomatoes are in the oven, place the peas in a pot over a high heat and pour over enough water (preferably hot from a kettle) to just cover the peas.
Cover the pot with a lid and soon as the water starts to boil, turn off the heat and drain the peas in a colander. Return the peas to the pot, add the butter, salt and pepper and use a potato masher to lightly crush the peas. Cover the pot with a lid to keep warm.
Cover a baking tray with parchment (baking) paper. Add

the butter and olive oil to a frying pan over a medium-high heat. When the butter starts to brown, add two fish fillets to the pan and fry for about half a minute before turning them over. Fry for another half a minute and then transfer the fish fillets to the baking tray. Repeat with the 

remaining fillets.
Season the fish with some salt and black pepper and pl

ace the baking tray and cook for in the oven for 2 minutes.

Add the capers, spring onion and lemon juice to the frying pan and quickly heat it through. 
Divide the mushy peas and tomatoes between four plates, add a sole fillet and top each fish with some of the caper mix. Serve with extra lemon slices.
Home Page > Fish And Seafood Recipes > Lemon Sole With Capers