Lemon Tart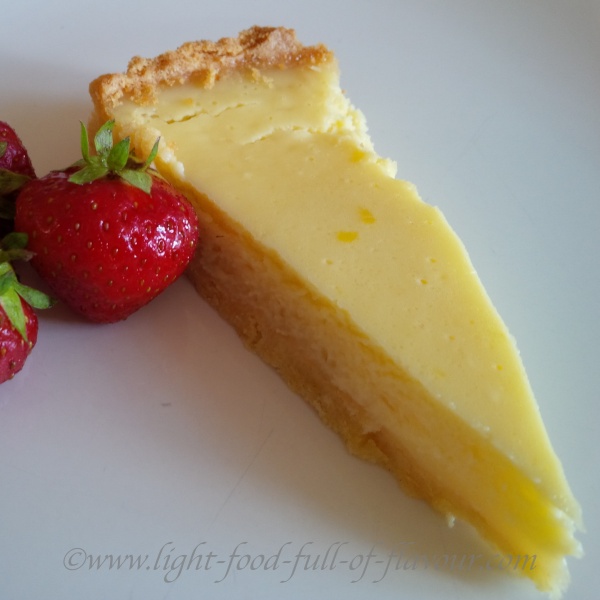 I sometimes cheat when I'm cooking – not with ingredients but with methods. This super-delicious lemon tart is a prime example.

One reason is that when I am on a job, I am always short of time. Another reason is that I am a severely impatient person.

In many cake recipes, for example, it says that you should add the eggs one at a time and mix carefully in between adding the eggs. I add all the eggs at the same time and you know what, my cakes still come out really beautiful and yummy.

This lemon tart recipe is from Raymond Blanc, a self-taught French chef with a Michelin-star restaurant in England. I have made this many times when working and I made it again the other night while out on my current job on the West-coast of Scotland.

While I more or less use the same ingredients as this chef does, I really simplify the way I make the pastry. I haven't tasted his lemon tart – which I am sure is absolutely amazing – but my version never fails to wow either. It is incredibly tasty!

Normally I do try to find enough time to blind-bake the pastry – this is when you cover the pastry with baking parchment and some kind of baking beans (see Pastry for Quiche). The reason for blind-baking is to make sure that the pastry case doesn't collapse along the sides.

As time really wasn't on my side the other night I even skipped this process. (And to be quite honest, I often skip blind-baking when I am making quiche outside of work. I obviously still have to bake the pastry case first - I just skip the baking parchment and baking beans and bake the case in one go until it is ready and can be filled and finished off in the oven.)

What I did though was to press the pastry slightly up and above the edge of the tart dish and fold it over. Once the tart was ready, I simply used a knife and trimmed the edge.

Note: I use xylitol instead of sugar. It is a vegetable sugar that looks and tastes like sugar but which has very little effect on raising your blood sugar. Xylitol has a really low GI – half that of fructose in fruit. I buy it in health food shops.
 

For 6-8 people:

Pastry:

120g, 4oz, ½ cup, unsalted butter, slightly softened

80g, 2oz, 0.6 cup icing (confectioner's) sugar, sifted

2 medium organic or free-range egg yolks

250g, 9oz, 1.8 cups plain flour, sifted

1 tablespoon cold water
 

For the filling:

5 medium organic or free-range eggs

150g, 5½oz, 0.75 cup xylitol – or use caster sugar (super-fine sugar)

140ml, 5floz, 0.6 cup double cream

Grated zest of 3 lemons and the juice of 4 (or do what I do when I am in a hurry, skip the zest and just add the juice of about 4½ - 5 lemons – simply taste the filling until you think it is sour enough)

 
1 organic or free-range egg, beaten, for glazing
 
1.    Pre-heat the oven to 180C/ fan 160C/350F/gas mark4.

2.    To make the pastry (my way), add all the ingredients to a bowl and work it together with your hands until you've got a smooth pastry. Using your hands, press out the pastry in a 21cm, 8½ inch tart tin (see Pastry for Quiche for how to do it). Place the pastry case in the fridge to chill for 30 minutes.

3.    Take out the pastry tin from the fridge, prick the bottom with a fork, cover with baking parchment and add whatever baking beans you are using. Bake in the oven for 15 minutes.

4.    Carefully remove the baking beans and baking parchment, return the pastry case to the oven for about 5 more minutes, until the pastry is golden. Brush the pastry case with the beaten egg and return it to the oven for 1 more minute.

5.    For the filling, whisk the eggs and sugar together, gently whisk in the cream, lemon juice and zest until just combined and pour it into the case. Cook for about 25-27 minutes. Remove the tart from the oven and let it cool for an hour.