Light And Healthy Asian Coleslaw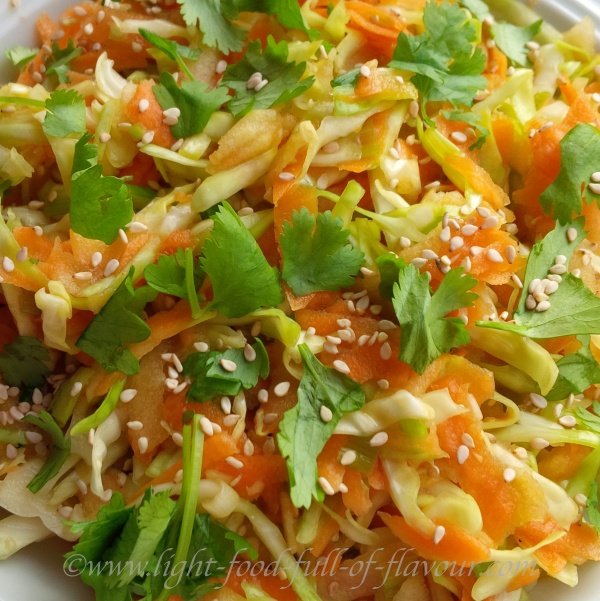 A delicious light and healthy Asian coleslaw which is kind to your waistline and full of flavour.

It requires a bit of preparation and soaking but once finished it will easily keep for several days in the fridge. The taste will improve when the coleslaw is left to stand for a while.

The inspiration for this coleslaw comes from Japanese and Korean cuisines. Both Japanese and Korean food often includes a fair amount of sugar though. I only add a small amount of raw, untreated honey in place of sugar in any type of Asian-style food where sugar is otherwise used.
I have two other really tasty Asian-style salads on my website - Crunchy Thai-Style Salad and Asian-Style Carrot Salad.

When it comes to cabbage, my favourite type is sweet pointed cabbage. I love adding finely shredded pointed cabbage to my salads – love that sweet crunch you get when biting into it!

Cabbage is also super-good for you – containing among other things highly potent anti-cancer and liver-friendly nutrients. As long as it is available, I buy organic cabbage.


Light And Healthy Asian Coleslaw:

1 small pointed cabbage - finely shredded (I use a sharp knife rather than a grater)

2 medium-sized carrots, coarsely grated

2 green apples, coarsely grated

3 spring onions (scallions), chopped

50ml, 2floz, ¼ cup, cider vinegar

½ tsp natural salt – such as sea salt or Himalayan rock salt

Dressing:

1½ tablespoon fresh lime juice

1½ tablespoon Tamari soy sauce (which is gluten-free) – or use light soy sauce

1 teaspoon pure sesame oil

1 level teaspoon raw honey

1 garlic clove, crushed/minced

½ teaspoon ground ginger

1 tablespoon sesame seeds – dry-roasted for 1 minute (optional)

1.    Place the shredded cabbage, grated carrots, apples and chopped spring onions (scallions) in a non-metallic bowl. Add the cider vinegar and salt and mix thoroughly. Leave to stand for 1 hour – stirring the mixture every now and then.

2.    After an hour, put a lid or a plate on top of the coleslaw and pour off the liquid. Mix together the lime juice, soy sauce, sesame oil, honey, garlic and ginger, season with some black pepper and add to the coleslaw together with the sesame seeds. Mix thoroughly.

I eat most of my cooked food together with a raw salad to try to get as much nutrients as possible from what I eat – and to keep my weight in check by eating a lot of whatever salad I've made before eating anything else!

This Asian coleslaw will go well together with a lot of different types of Asian-style food.


Home Page > Salad Recipes >  Light and healthy Asian Coleslaw