Marinated Chicken With Chilli, Coriander And Lime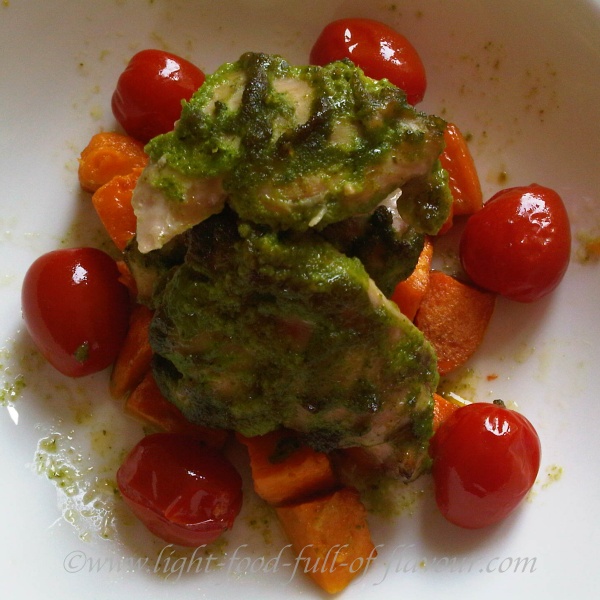 It is easy to make this mega-tasty marinated chicken with chilli – and it becomes a really healthy, low-calorie meal if you combine it with oven-roasted sweet potatoes, tomatoes and either some steamed green vegetables or a salad.

I do use sweet potatoes a lot. Apart from that I love the taste of this vegetable, sweet potatoes are really nutritious. Just be aware though that sweet potatoes are rich in carbohydrates. They are best eaten in small amounts if you are watching your weight (see Low-GL Carbohydrates).

Tomatoes are healthier when cooked - a rare thing among vegetables – as cooking makes the super-nutrient lycopene in tomatoes more absorbable. I find that really tasty tomatoes baked in the oven replace the need for a sauce in many dishes.

When it comes to chicken, I prefer to use chicken thighs as the meat is so much more juicy and moist than chicken breast.

To make the marinade, I use my trusty, inexpensive stick blender and the beaker that came with it. I've got a fancy mini food processor/blender that doesn't work half as well for making something like this.

For 4 people:

Marinade:

1 large red chilli, deseeded and roughly chopped

2 garlic cloves, crushed

25g, 1oz, ¼ cup, coriander (cilantro) - leaves and stalks roughly chopped

3 teaspoons finely grated ginger

1 ½ teaspoon runny honey

2 tablespoons soy sauce

Juice of 1 lime

1 tablespoon coconut oil


Boneless and skinless chicken thighs – 1-2 per person depending on the size of the chicken thighs – trimmed and each thigh cut in half

4 medium-sized sweet potatoes, peeled and cut into bite-size pieces

20 small tomatoes

1. Preheat the oven 200C/fan180C/400F/gas mark 6. Place all the ingredients for the marinade in a blender and blend until everything is well combined. Cover an oven tray with baking parchment and place the chicken thighs flat on the tray. Smother the chicken with the marinade.

2. Toss the sweet potato chunks in a little bit of olive oil and spread them out in a roasting tray and sprinkle over some salt.

3. Place the tray with the sweet potatoes in the oven first and roast for 5 minutes. Add the tray with the marinated chicken to the oven and roast for a further 20 minutes – add the tomatoes for the last 10 minutes - until the chicken is completely cooked through and the sweet potato tender.

As I say in the beginning, to get as much nutritional value out of this meal as possible, serve this marinated chicken with chilli dish with some steamed/boiled green vegetables and/or a salad.