Miso Marinated Salmon With Sweet Potato Mash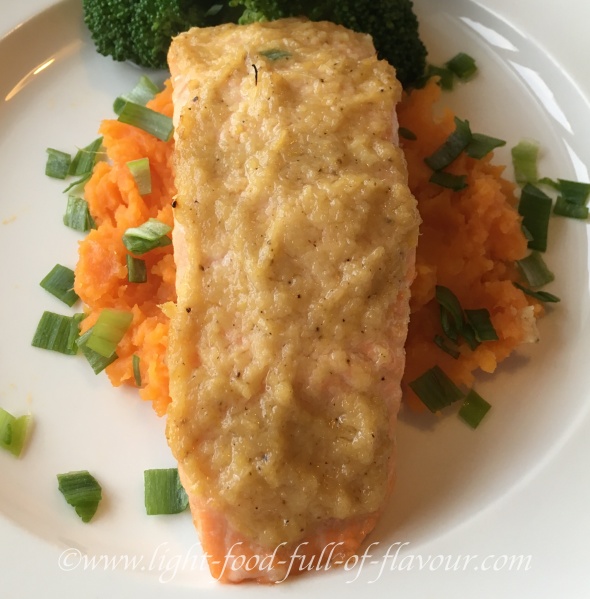 There's a lot of flavour in this miso marinated salmon dish – and it is healthy as well.
It's all about the gut these days. There's a real buzz about the importance of having good bacteria in our guts, and the types of food that will increase the amount of those god bacteria, like fermented food. 

Miso is made from fermented soybeans and grains and contains millions of beneficial bacteria. 

I am using sweet white miso in this recipe. It is made from fermented soybeans and rice and is the mildest and least salty type of miso.

The darker the miso is, the longer it has been fermented and the saltier it is. Dark miso also has a very strong taste and is best used in small amounts as it can over-power a dish. Dark miso is not suitable for this marinade. 

I am adding sesame oil to the marinade, a really mild unrefined, first cold pressing sesame oil though. The kind of sesame oil you mostly find in supermarkets, usually in a small bottle, has a very strong taste and, like dark miso, is best used in small amounts.

I have added a tablespoon of this mild sesame oil. If you have got sesame oil with a very strong taste, add just one teaspoon of this and also add a tablespoon of olive oil to the marinade. 

Tip: Once opened, white miso can usually keep for up to a month if well sealed and kept in the fridge. It's great for adding to soups or other marinades. Just keep in mind that it is salty and that you need much less salt, or none, when adding some miso.
Miso marinated salmon for 2:
1 large, or 2 small sweet potatoes – peeled and diced

½ tablespoon olive oil
For the salmon marinade:

1 tablespoon sweet white miso
2 teaspoons finely grated ginger
1 tablespoon mild sesame oil
grated zest of 1 unwaxed lemon
¼ teaspoon ground black pepper
2 salmon fillets
Broccoli – cut into florets – and the more the merrier as they are super-healthy and very low in calories
Preheat the oven 200C/fan180C/400F/gas mark 6. Toss the diced sweet potato in a little bit of olive oil and spread them out in a roasting tray and sprinkle over some salt. Place the tray with the sweet potatoes in the oven and roast for around 25 minutes, until they are soft.
Once the sweet potatoes are in the oven, mix together all the ingredients for the marinade and divide the mixture over the 2 salmon fillets and place them in an oven-proof dish. When the sweet potatoes have been in the oven for 15 minutes, add the tray with the salmon to the oven and bake for 12-15 minutes, depending on how thick the fillets are.
Towards the end, steam or boil the broccoli florets for 1-2 minutes (I cook them as little as possible). Once the sweet potatoes are soft, take them out of the oven and mash them up with a fork.

Divide the mash between two plates and top with the miso marinated salmon and broccoli on the side. 
Home Page > Fish And Seafood Recipes > Miso Marinated  Salmon