Moong Dal Chilla Pancakes With A Vegetable Stir-Fry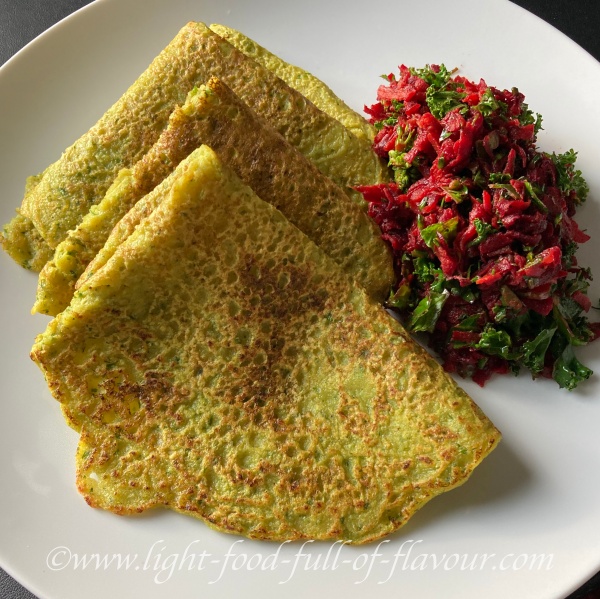 Finger-licking good, literally, Indian-style moong dal chilla pancakes which I serve with a spicy vegetable stir-fry. I say literally as I like to eat this with my fingers - breaking off a piece of chilla pancake and using it to scoop up some veggie stir-fry. 
Moong dal are halved and hulled mung beans. While whole mung beans needs to be soaked and then rinsed before cooking, moong dal does not. 
You do need to soak the moong dal for the pancake batter though, for at least an hour until most of the water has been absorbed.
Both types are very nutritious, rich in protein, fibre and several important vitamins and minerals. Whole mung beans contains more fibre but moong dal has the advantage of being more easily digested by our bodies (and thus produces less gas).
If you can't get hold of moong dal (I buy it in health food shops) you can replace it with yellow split peas.
I use gluten-free buckwheat flour for the batter but you can swap that for gram (chickpea) flour, which is also gluten-free.
I add four very nutritious vegetables to my stir-fry - sweet potato, beetroot, broccolini/tenderstem broccoli and kale. 
Broccolini and kale are part of the highly nutritious cruciferous vegetable family. Both are low-calorie, low-GL carbohydrates and packed with healthy nutrients and fibre. These days I add them to a lot of different types of food - both raw in things like smoothies and home-made pesto and as a last minute addition to curries, soups, casseroles and stir-fries.
I make the stir-fry first and leave it to the side while frying the moong dal chilla pancakes. Once all the pancakes are ready, I quickly reheat the stir-fry. 
Recipe For Moong Dal Chilla Pancakes And Spicy Stir-Fry
For the chilla pancakes:
200g, 7oz, 0.9 cup moong dal (or use yellow split peas)
250ml, 8.5fl oz, 1.1 cup water
1 tablespoon grated fresh ginger
1/2 teaspoon ground turmeric
1/4 teaspoon cayenne chilli powder (optional)
1 teaspoon salt
large handful fresh coriander/cilantro, leaves and stalks
50g, 1 3/4oz, buckwheat flour - or use gram (chickpea) flour
coconut oil for frying
For the stir-fry:
1 1/2 tablespoon coconut oil
1 large sweet potato - pealed and coarsely grated
1 large raw beetroot - pealed and coarsely grated
200g, 7oz broccolini/tenderstem broccoli - finely chopped
100g, 3 1/2oz kale - tough stems removed and chopped
1 teaspoon each of ground ginger, ground coriander, ground cumin and smoked paprika
1/2 teaspoon salt and some black pepper
Start by adding the moong dal and water to a bowl and leave for an hour to an hour and half until all the water has been absorbed.
Once the water has been absorbed, add the moong dal to a food processor together with the fresh coriander/cilantro, grated ginger, turmeric, chilli powder and salt. Whizz/pulse until smooth. Transfer the mixture to a bowl and add 350ml cold water and the buckwheat or gram flour. Stir everything together and leave to the side.
Turn the oven on to a low temperature. Add 1 1/2 tablespoon coconut oil to a wok or large non-stick frying pan over a medium-high heat. Once the oil is hot, add all the vegetables and spices for the stir-fry to the pan and keep stirring for about 4 minutes. Take the pan of the heat and leave to the side.
Cover a baking tray with parchment paper and place it in the oven. Add a teaspoon coconut oil to a large non-stick frying pan over a medium-high heat. Once the oil is really hot, add a small lade-full of pancake batter to the pan and spread it out into a thin circle - I use the back of a metal spoon to do this. Fry for 2-3 minutes until brown on the underside, then flip it over and fry for a further 2 minutes. 
Transfer the pancake to the tray in the oven and then repeat until you have finished the batter.
When the last pancake is in the oven, reheat the stir-fry until piping hot.