Moroccan-Style Chicken Casserole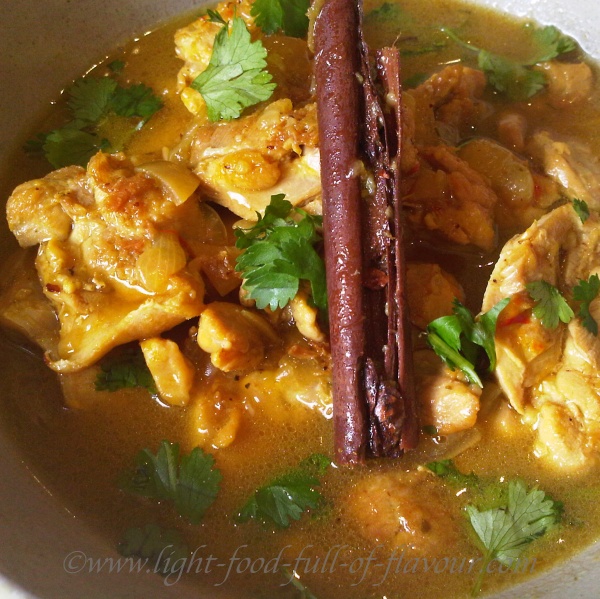 Out of all my chicken recipes, this Moroccan-style chicken dish is one of my favourites.
It's simply a winner in every way – bursting with near-intoxicating flavours yet light and low in calories.
On top of that, it's an excellent dish to prepare well in beforehand as the flavours simply intensify when resting.

I used to be a horrendous host when I was younger as I had prepared very little before my guests arrived. I would sit them down in the kitchen with a glass of wine and because I found it very hard to engage in conversation and cook at the same time - and I am a great talker - they sure had to wait before they got any food.

These days, if I've invited people over for a meal, I will serve something that I've cooked earlier and that only needs a few finishing touches once we're ready to eat.

And while I've done many a starter in my job as a cook, I do personally find it an outdated thing to have a sit-down three course dinner.

My advice to friends asking me for ideas is to simply have a platter with things to nibble on for your guests while you finish off a main course that has been prepared before.
I prefer to make the main course the main attraction, served with some side dishes, and most of the time will round of the meal with nothing but some really good chocolate. Champagne chocolate truffles, anyone?

Moroccan-style chicken casserole for 4 people:

A level teaspoon of saffron strands

400ml, 13½oz, 1¾ cup, chicken stock

2 tablespoons olive oil

1kg, 2¼lb,  boneless and skinless chicken thighs

Salt and pepper

1 large onion, chopped

3 garlic cloves, crushed

Thumb-sized piece of fresh ginger, finely grated

1 teaspoon ground cumin

1 teaspoon ground coriander

1 teaspoon ground ginger

1 cinnamon stick

2-3 small preserved lemons, finely chopped

Small handful parsley or coriander (cilantro), chopped

1. Add the saffron to the stock and keep the stock warm in a small pan over a very low heat. Heat the olive oil in a casserole over a high heat and brown the chicken thighs in batches, seasoning each batch with salt and pepper and then setting each batch aside.

2. When you have browned all the chicken pieces, lower the heat and add the onion to the casserole, stirring every now and then, for 5 minutes. Add the garlic, fresh ginger and all the spices. Stir and cook for a further minute.

3. Return the chicken to the casserole together with the preserved lemon and pour over the saffron-infused stock. Bring to the boil then reduce the heat, cover with a lid and simmer for 25 minutes.

4. Check the seasoning and scatter over chopped parsley or coriander.

I serve this Moroccan-style chicken dish with either quinoa (best for your health and weight), or wholemeal (wholewheat) couscous.


Home Page > Chicken Recipes > Moroccan- Style Chicken Casserole