Olive And Pepper Dip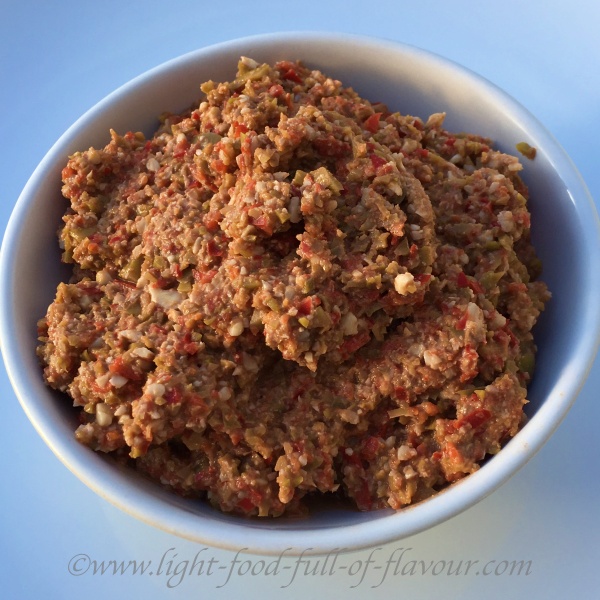 I don't like olives on their own but I can't get enough of this super delicious olive and pepper dip. I make it several times a week.
It's easy to make, really healthy and you can use it in so many ways. Add a dollop to a salad, top oat biscuits or bread with a spoonful or, for a more substantial meal, stir it through pasta.
I eat a very late breakfast-  whether at work or at home – and a favourite is toasted rye bread topped with hummus, this olive and pepper dip, avocado and a poached egg. It is So Tasty!
The dip is also a nutritional goldmine.
Olives are a good source of vitamin E, and other important antioxidants, and healthy monounsaturated fats.
Red peppers are low in calories (it's a low-GL carbohydrate) and a very good source of vitamin A and C.
Walnut and almonds are like all nuts a very good source of essential fats, vitamins and minerals (such as calcium, magnesium, potassium and iron).
Nutritional yeast flakes are an incredibly good source of different B-vitamins (which are vital for body's energy production) and fibre. Nutritional yeast has a cheesy taste and can be found in health food shops and well-stocked supermarkets.
Parsley is a rich source of vitamins A, C and K, and also contains the minerals calcium, magnesium, potassium and iron.
You don't need to eat dairy products for calcium. I am on a dairy-free diet most of the time (two tests have showed that I'm intolerant to dairy) but I get plenty of calcium from foods like nuts and seeds and dark green vegetables like parsley, kale and broccoli. I also add spirulina and baobab to my diet and both are a good source of calcium and many other nutrients.
All the different types of fat in this olive and pepper dip are of the healthy and essential variety - the kind of fats your body need. But it's still a good idea not to eat too much of these healthy fats if you are watching you weight.
For the dip:
100g, 3½oz, pitted olives (any colour)
1 large red pepper (bell pepper), de-seeded and roughly chopped
50g, 1¾oz, mix of walnuts and almonds
1 heaped tablespoon nutritional yeast
a large handful of parsley
2 tablespoons Extra virgin olive oil
1 tablespoon balsamic vinegar
1/4 teaspoon black pepper
Place all the ingredients in a food processor and pulse for about 30 seconds. This will dip will keep for a couple of days in the fridge in a covered container.