Orange And Tomato Salad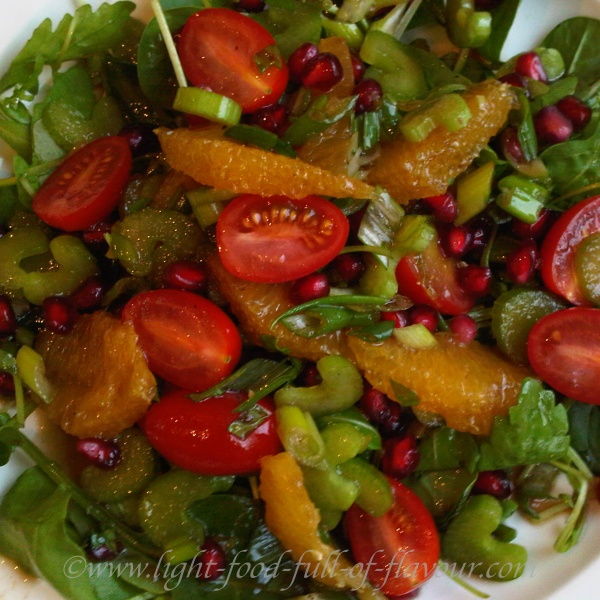 As far as salad goes, this orange and tomato salad is a real favourite of mine. It is as beautiful to look at as it is delicious and healthy.

It is such a fresh salad and it will fit in nicely on a buffet table. I have served it alongside lots of different kind of food and it has always been a big hit.

I like to use really sweet and juicy oranges and ripe and tasty tomatoes for the salad. This is then combined to perfection with the acidity of the balsamic vinegar in the dressing.

The crunchiness in this salad comes from the celery.
Celery is a very good source of different vitamins and minerals. This low-calorie vegetable also contains two powerful antioxidants - apigenin and luteolin - which can reduce inflammation and help treat a range of inflammatory diseases.
I love the taste and texture of celery and I like adding it to salads. But I do prefer to cut it finely rather than having big chunks of it in a salad like this one.

To be honest, I'm not one for serving big chunks of any vegetable, in any kind of salad. I actually think it tastes better when the vegetables are cut into smaller pieces.


For 4 people as a side dish:

2 large oranges

200g, 7oz, 1¼ cups, small tomatoes, like cherry or plum tomatoes, halved

4 celery stalks, trimmed and sliced finely

4 spring onions (scallions), sliced

3-4 tablespoons pomegranate seeds

100g, 3½oz lettuce, I prefer a mix of lettuce leaves

1½ tablespoon balsamic vinegar

1 tablespoon olive oil

1 teaspoon runny honey

10 mint leaves, shredded

Salt and pepper

1. Cut away the peel and pith from the oranges over a bowl so that you catch the juices. Cut each side of each membrane to remove the individual segments. Squeeze what's left of the orange into the bowl to get as much juice as possible from the oranges.

2. Place the orange segments in another bowl and mix them with the tomatoes, celery, spring onion (scallion), pomegranate seeds and shredded mint.

3. Add the balsamic vinegar, olive oil, honey and a pinch of salt and pepper to the orange juice and whisk until well combined. Place the lettuce leaves on either a large plate or in salad bowl, place the orange, tomato and celery mix on top and drizzle all of the dressing over it.