Parmesan Breaded Chicken And Tomato Basil Sauce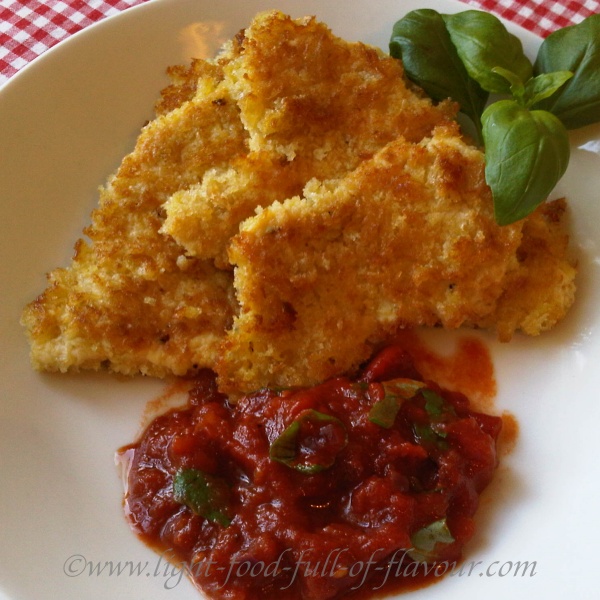 "Is it fish?" A lot of people ask this when they see my Parmesan breaded chicken escalopes (scallops/cutlets). I can only assume this is because of how thin they are.

Why do I make them so thin? Well, apart from the fact they are quicker to cook this way, these thin chicken escalopes becomes super-moist and utterly delicious. We're talking a proper crowd-pleaser.

To make my Parmesan breaded chicken as tasty and healthy as possible, I make my breadcrumbs from sourdough bread. I know I go on and on about this but if you care about properly made healthy food, sourdough bread, or bread made with very little yeast and a long fermentation, is the way to go when it comes to bread.

I serve my breaded chicken with a tomato sauce and then either with oven-roasted sweet potatoes wedges and some green vegetables, or with spaghetti and green vegetables.
If I'm using spaghetti then I prefer to use either spelt or wholemeal (wholewheat) spaghetti , a much healthier alternative to white pasta and really tasty.
 

For 4 people:

3 organic or free-range chicken breast

80g, 3 oz, 0.6 cup, plain white flour 

2 organic or free-range eggs

100g, 3½oz, 2 cups, fresh breadcrumbs

5 tablespoons grated Parmesan or Grand Pandano cheese

¼ teaspoon cayenne pepper, optional

Salt and pepper

Olive oil for frying


For the tomato sauce:

1 tablespoon olive or rapeseed oil

½ red onion, peeled and finely chopped

1 garlic clove, crushed

400g, 14oz, 2 cups, chopped tomatoes

3 tablespoons sun-dried tomato paste (or use plain tomato paste if you can't get hold of it)

3 tablespoons balsamic vinegar

100ml, 3½floz, ½ cup, water

Salt and pepper

Handful of fresh basil leaves, roughly torn
 
1.    Pre-heat the oven to 220C/fan 200C/425F/gas mark 7. If you are going to serve the breaded parmesan chicken with oven-roasted sweet potato wedges, place them in the oven before continuing with the rest.

2.    Start by making the tomato sauce. Place the oil and chopped onion in a pot over a medium heat. Gently cook the onion, stirring every now and then, until it starts to soften but not brown, approximately 5 minutes. Add the crushed garlic and cook for a further minute, stirring and making sure the garlic doesn't burn.

3.    Add the chopped tomatoes, tomato paste, balsamic vinegar, water and season with salt and pepper. Stir and bring to a simmer. Let it simmer for about 10 minutes, adding the basil leaves at the end. Taste and check the seasoning.

4.    While the tomato sauce is simmering, cut each chicken breast into thin (3mm - 1/8in) escalopes (scallops/cutlets). My way of doing it is to place my hand on the chicken breast and while pressing down on it slightly, cutting thin slices out of the chicken breast with a sharp knife. Don't rush it so that you end up cutting yourself. If the escalopes become too thick, place them on a cutting board lined with baking parchment and cover with another piece of baking parchment. Use a meat hammer or rolling pin and bash the escalopes until they are thin enough.

5.    Scatter the flour over a plate and season with salt and pepper. Place the eggs in a bowl and lightly beat. Place the breadcrumbs, Parmesan cheese and cayenne pepper if using it in another bowl and mix well. Dust each escalope - on both sides - in the flour, then dip the escalope in the beaten egg and finally coat each side with the breadcrumb and Parmesan mixture. Place the breaded chicken escalope on a plate as you continue with the rest.

6.    Add some oil to a large frying pan over quite a high heat and quickly brown the Parmesan breaded chicken escalopes in batches. Transfer the escalopes to a roasting tray lined with baking parchment and place the tray in the oven for about 5 minutes, until the chicken is cooked through.
Serve the parmesan breaded chicken escalopes with the tomato sauce and either oven-roasted sweet potatoes or spaghetti and green vegetables like broccoli and/or green beans.