Porridge Ideas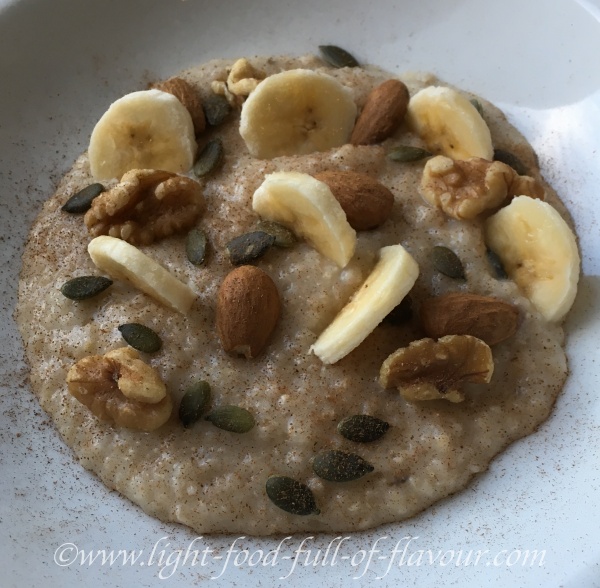 Porridge is good for you!

You won't find me eating it plain but by adding a few things - like  crushed flax seeds (linseeds), pumpkin seeds, almonds, walnuts cinnamon, cardamon and either some berries or chopped banana or apple - it becomes a really healthy and mega-tasty breakfast.
(For a gluten-free version - click on Quinoa and Apple Porridge with Cinnamon.) 
Another super-healthy version, and one that I'm eating every morning at the moment, is porridge with spirulina powder (hence the green-blue colour), wheatgrass powder, baobab powder, cinnamon, mashed banana and nuts and seeds.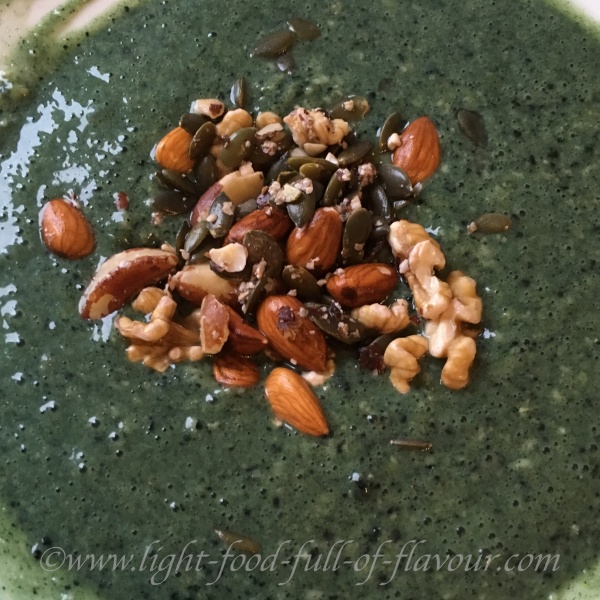 Here's the scientific part:

Oats contain a fibre that contains beta-glucan which has been shown to lower blood cholesterol and slow down carbohydrate uptake. Oats also gives us silica, a trace mineral believed to be vital for good quality skin, and contain magnesium which helps to boost energy levels.

Flaxseeds (linseeds) contain high levels of dietary fibre as well as an abundance of micronutrients. Flax and chia seeds are the richest plant source of essential omega-3 fats, which are essential for a healthy brain, heart, joints and immune system.

Tip: Your stomach will not dissolve whole flax seeds – you can either grind them yourself in a food processor, coffee grinder or blender or you can buy them already ground up. Be aware of that ground flax seeds have a short shelf life and need to be stored in an air-tight container in the fridge.
Spirulina is a blue-green algae which is sold as either a powder or as a tablet supplement. It is really rich in a variety of vitamins and minerals and the protein in spirulina contains all the essential amino acids. It has lots of health benefits and one of these is that it may help to improve hay fewer (allergic rhinitis).
Baobab powder is rich in fibre, vitamin C, B6, niacin, iron and potassium. It also contains smaller amount of other nutrients.
All nuts and seeds are rich in different vitamins and minerals and are also a source of high quality protein and essential fats, the type of fat your body needs to function properly.
Cinnamon is good for you in many different ways. Several studies have shown that by adding ½ teaspoon of cinnamon to your diet per day, you can lower your bad cholesterol. Other studies have shown that cinnamon may help type 2 diabetics to control blood sugar levels.
Please note: if you are eating cinnamon on a daily basis then it is very important that you eat the right type of cinnamon. Click on Cinnamon Spice for more information

Cardamom is a digestive (and super-yummy) spice. It improves circulation and boosts energy.

Adding fresh berries will make this a really nutritious breakfast. Fresh berries have the lowest sugar content of all fruit and are full of healthy antioxidants.

Or you can add some chopped banana or some grated apple to each portion.

And after all this scientific hoo-ha, all you need to make 1 portion of porridge is:

40g, 1½oz, 0.4 cup, of oats (I buy organic oats)

275ml, 9¾fl oz, 1.2 cups, of water or milk/plant milk

Place in a pan and cook and stir for 6 minutes.