Prawn And Mixed Fish With Coriander Lime And Chilli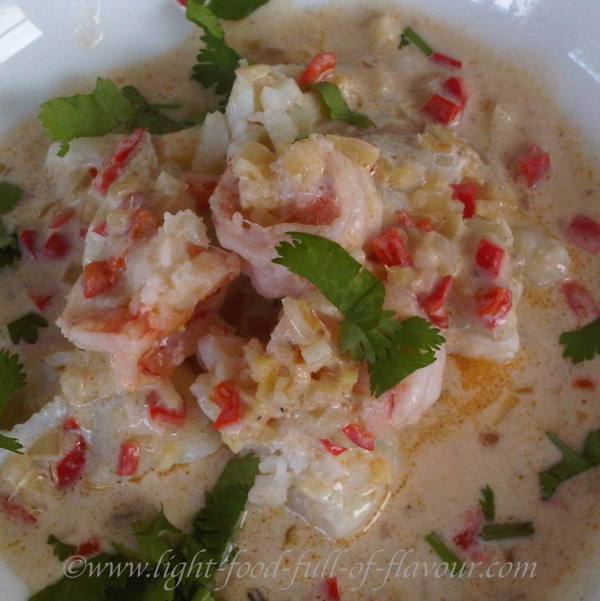 Light food full of flavour doesn't get much better than this prawn and mixed fish dish – a real favourite of mine. It's so incredibly fresh and light while also spicy and wonderfully flavoured.

As is the case with a lot of my food – it's easy to prepare beforehand and quick to finish off once you are ready to eat, so it's an excellent dish to serve when you have guests.

It is important to buy large raw prawn with shells as a lot of the flavour in this dish comes from cooking the shells for the broth.

I add shrimp paste to the broth as well - it really adds a lot of extra flavour. You can find it in well-stocked supermarkets or in shops specializing in Asian food.
I like to serve this dish with steamed sugar snaps. If you want a more substantial meal, serve the prawn and mixed fish with cauliflower rice, quinoa, or brown basmati rice rice, as well. 

Prawn And Mixed Fish With Coriander, Lime And Chilli
For 4 people:

500g, 1lb 2oz, large raw prawns with shells - remove heads and shells, but save them

500g, 1lb 2oz, mixed fish, such as haddock, cod or lemon sole, cut into bite-sized pieces

1 tablespoon coconut oil - or use vegetable oil - for frying
1 teaspoon shrimp paste (see above)

1 teaspoon coriander seeds, crushed

1/2 teaspoon ground cumin

Salt and pepper

400ml, 13½floz, 1¾ cups, coconut milk
200ml, 7floz, 0.9 cup, water

2 shallots, finely chopped

4 garlic cloves, finely chopped

A thumb-sized piece of ginger, finely chopped

2-3 large red chillies, de-seeded and finely chopped

Grated zest and juice of 1 lime

2 handfuls fresh coriander, stalks and leaves finely chopped


1. Heat the 1 tablespoon of coconut oil in a saucepan over a medium heat. Add the prawn heads and shells, shrimp paste, coriander seeds, cumin and season with some salt and pepper. Cook for about 4 minutes until the shells have turned orange. Add the coconut milk and 200ml of water and simmer for 15 minutes. Strain through a sieve into a clean pot and discard the prawn shells.

2. Meanwhile, heat the remaining tablespoon of coconut oil in a frying pan and fry the onion, garlic, ginger and chilli gently over a low heat for about 5 minutes. Stir every now and then to make sure it doesn't burn. Add this to the strained prawn-coconut milk together with the lime zest. Bring to a simmer and check the seasoning to see if you need any more salt. This can be prepared well in advance.

3. I cook the fish in the oven by simply covering an oven tray with baking parchment and then place the fish on the tray with nothing but a bit of salt and pepper on top and cook it in a 200C/400F/gas mark 6 hot oven for about 5 minutes. This is a healthier way to cook the fish, but you can of course also fry the seasoned fish in a lightly oiled frying pan.

4. Add the prawns to the coconut liquid and cook them for 2-3 minutes. Take the pan away from the heat and add the lime juice and the chopped coriander.

5. Divide the fish between 4 bowls and pour the sauce with the prawns over the fish.