Prawn Noodle Stir-Fry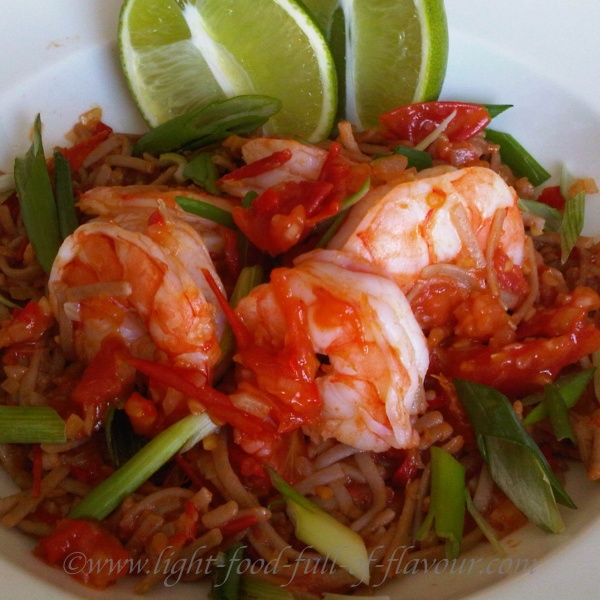 Easy to make and so delicious – this prawn noodle stir-fry recipe is a pure delight!

The recipe that inspired me comes from an article in a Telegraph magazine, where Rose Prince wrote about sustainable prawn farms in Sumatra. 

"Mainstream tropical prawn farming is acknowledged as an environmental catastrophe, with the precarious eco system of the mangrove forests on the coast destroyed to make way for ponds. Prawns are densely packed in the water (up to 150 per cubic meter) and attract disease, so the water is routinely medicated."

I love prawns but I buy sustainably farmed ones – even though they are undoubtedly more expensive. I'd rather eat less of the good stuff than a truckload of adulterated cheaply produced food!

I use fewer chillies in my dishes than you'd find in a lot of original south-east Asian food. I don't want them to obliterate the taste of the other ingredients in whatever dish I'm cooking.

Regarding noodles: I am using thin wheat-free soba noodles in this stir-fry. They are the healthiest type of noodles but not usually used in stir-fries. Soba noodles are made from buckwheat flour and become very soft and quite fragile once cooked – they break up very easily when tossed in a stir-fry.

You can use rice or egg noodles instead of soba noodles.
 

For 4 people:

For the sauce:

5 medium-sized ripe tomatoes, chopped

4 cloves of garlic, finely chopped

3 shallots, finely chopped

2 large red chillies, deseeded and finely chopped

Thumb-sized piece of ginger, peeled and finely chopped

2 lemongrass stalks - cut off the thinner top, leaving you with the "bulb" at the bottom, discard tough outer layer, cut off the bottom of the "bulb", halve it and slice very finely

1 level teaspoon runny honey

½ tablespoon fish sauce
 

1 ½ tablespoon coconut oil

16 large prawns, peeled

200g, 7oz, egg or soba noodles, cooked according to pack instructions


To serve:

4 spring onions (scallions), sliced

Juice of a lime

1.    Mix together the chopped tomatoes, garlic, shallots, chillies, ginger, lemongrass, lime zest, honey and fish sauce. Heat the oil in a wok or high-sided frying pan over quite a high heat. Add the sauce mixture to the wok or pan and fry until you have a thick puree, about 8-10 minutes.

2.    Add the prawns and continue to fry for a further minute – until the prawns are pink - before adding the cooked noodles. Toss everything together and fry for a further 30 seconds, until everything is piping hot.

3.    Add the lime juice and spring onions (scallions) to the prawn noodle stir-fry before serving.


Home Page > Fish and Seafood Recipes > Prawn Noodle Stir-Fry