Puy Lentils with Roasted Beetroot, Sweet Potato And Squash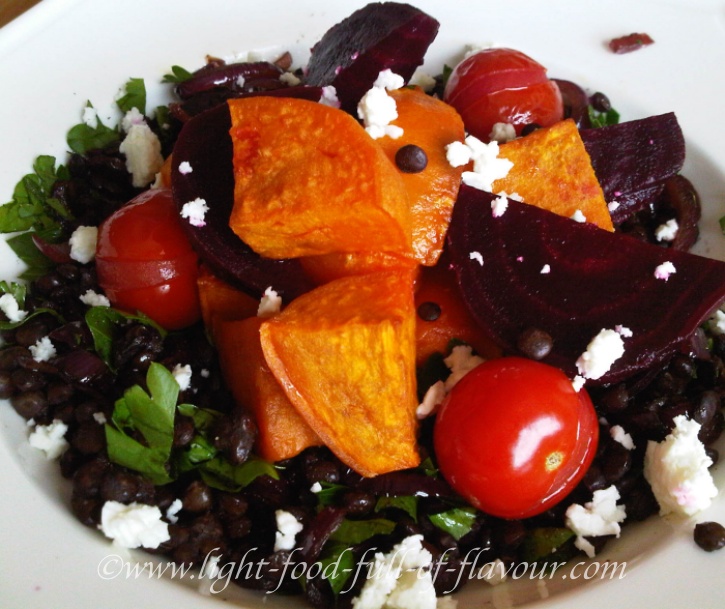 An utterly gorgeous and deeply satisfying dish which is bursting with earthy flavours from the puy lentils and the sweeter, full-on flavours of the beetroot (beet), sweet potato, butternut and red onion.

I adore beetroots (beets) but I know they are a bit of a divider.

Apart from the glorious taste, beetroots are also really healthy.

They are a rich source of antioxidants and also contain potassium, magnesium, iron, vitamins A, B6 and C and folic acid, as well as protein, carbohydrates and soluble fibre.

Lentils are packed with nutrients and are rich in protein and fibre, which will make you feel full for longer.

To make this an incredibly nutritious meal, serve it with a green salad full of dark green leaves.


For 4-6 people

4 medium sized raw beetroots (beets), peeled and each beetroot cut into 6 wedges

4 thyme sprigs

2 tablespoons olive oil

1 medium butternut squash, peeled, deseeded and cut into chunks

3 medium-sized sweet potatoes, peeled and cut into chunks

12 ripe small tomatoes

1 large red onion, peeled, halved and then cut finely

1 tablespoon olive oil

2 tablespoons balsamic vinegar

250g, 9oz, 1 cup, puy lentils

A handful chopped parsley

100g, 3½oz, 2/3 cup, feta or goats cheese

1. Heat the oven to 200C/ 400 F/ gas 6. Toss the beetroot, thyme and some sea salt and pepper in the oil in a roasting tin and roast in the oven for 15 minutes.

2. Add the butternut and sweet potato to the roasting tin with beetroot and mix well. Return to the oven for a further 30 minutes. While the vegetables are roasting in the oven, gently fry the red onion in the oil for about 10 minutes. Add the balsamic vinegar and turn up the heat for a couple of minutes to reduce the vinegar. Put to the side.

3. Cook the lentils according to pack instruction. I cook them in vegetable stock for 20-22 minutes before draining them.

4. Add the tomatoes to the other vegetables and return the roasting tin to the oven for a further 10 minutes.

5. Tip the lentils into a bowl and stir through the parsley, the fried red onion and some seasoning. Divide between 4 plates, top with the roasted vegetables and crumble over either some feta or goats cheese.