Saffron Chicken Casserole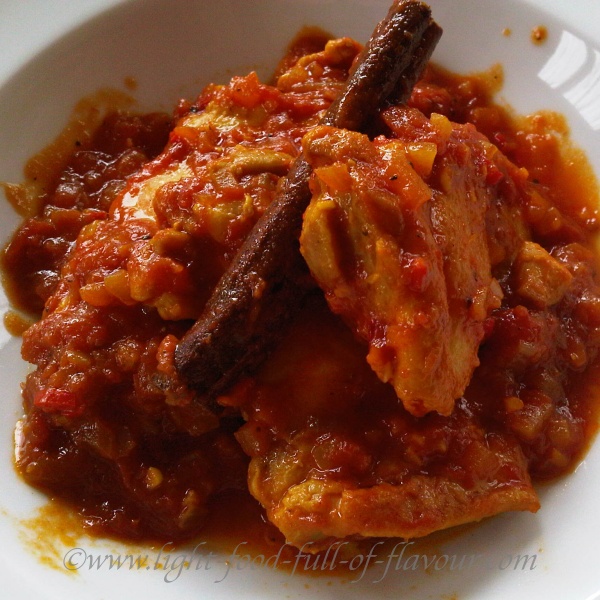 My kind of food - a full-flavoured low-calorie saffron chicken casserole which is quite quick to make and mega-delicious.

It is a fantastic dish to make in advance. Just quickly re-heat it when you are ready to eat. The flavours will intensify when the casserole is left to stand.

I've chosen to make it with boneless and skinless chicken thighs, which shortens the cooking time. 

You can obviously use chicken thighs on the bone if you wish, and also add chicken drumsticks. You will need to increase the cooking time if you do by about 25 minutes, until no pink meat remains.

I serve this saffron chicken casserole with either quinoa or cauliflower rice and a mix of green vegetables (broccoli, green beans, spinach).

 
For 4 people:

8 boneless, skinless chicken thighs

2 tablespoons coconut oil - or use vegetable oil

1 red onion, finely diced

3 garlic cloves, finely chopped

Thumb-size piece of ginger, peeled and finely chopped

2 red chillies, de-seeded and finely chopped

1 teaspoon saffron threads

½ teaspoon ground turmeric

2 cinnamon sticks

400g, 14oz, 2¼ cups, tin of chopped tomatoes

2 tablespoons tamarind water (see below), or, if you can't get hold of tamarind, replace with 1 tablespoon of lemon juice

1 teaspoon runny honey

200ml, 7floz, 0.9 cup, water

1 bay leaf

Salt and pepper

(Tamarind water: take a piece of tamarind pulp, about the size of a golf ball, and place it in a bowl with 100ml, 3½, ½ cup, of warm water. With your fingers, work the tamarind pulp into the water until it has broken down and the seeds have been released. Strain the syrupy liquid through a fine sieve – press down with a spoon - into another bowl. Discard the fibrous material left in the sieve.)

1.    Pre-heat the oven to 180C/Fan 160C/350F/gas mark 4. Heat the coconut oil in a casserole over a medium high heat and brown the chicken thighs in batches, seasoning each batch with salt and pepper and then setting each batch aside.

2.    Lower the heat and add the onion, garlic, ginger, chilli, saffron, turmeric and cinnamon sticks to the casserole. Stir and cook for about 10 minutes, until the onion is soft. Add the chopped tomatoes, tamarind water, runny honey, water and a bay leaf. Season with salt and pepper, stir and bring to a simmer. TASTE, to make sure you are happy with the seasoning.

3.    Return the chicken to the casserole and cover with a tight-fitting lid. Place the casserole in the oven and cook for about 25 minutes, until the chicken thighs are cooked through.

This saffron chicken casserole tastes wonderful when straight out of the oven, but like a lot of food it tastes even better when left to stand. If you are not going to eat it straight away, you need to place it in the fridge once cooled down.