Salmon And Noodles In An Asian-Style Broth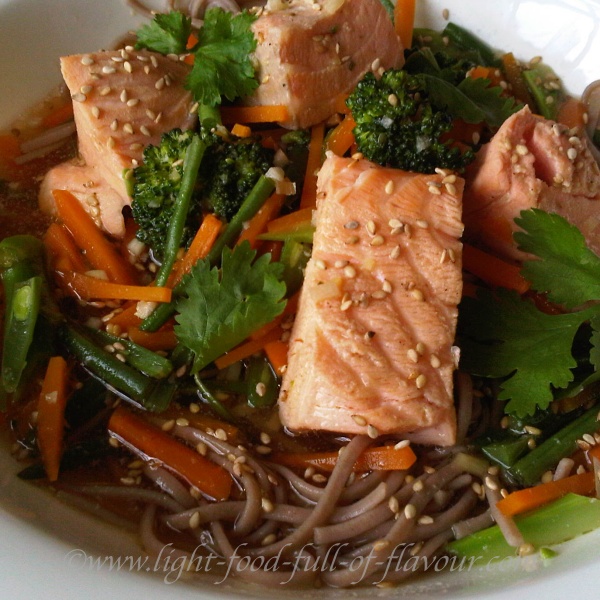 I was trying out new recipes the other day and came up with this salmon and noodles dish - it's a dish with lots of flavour.

And it's good for you, and light.

I am using thin wheat-free soba noodles in this dish. They are made from buckwheat flour (gluten and wheat free) and are the healthiest type of noodles – but you can use egg noodles instead if you prefer that.

I am also using an organic Japanese Tamari soya sauce (gluten and wheat free as well). If you can't get hold of tamari soya sauce, use a light soya sauce instead. And to continue this effort to use the best ingredients possible, I'm using raw organic honey for the marinade.

If you want more heat, you can sprinkle some chopped fresh chillies over each portion of this salmon and noodle dish.
 

For 4 people:

Marinade:

2 tablespoons mirin (sweetened rice wine – you'll find it among Asian food in most well-stocked supermarkets)

2 tablespoons Tamari soya sauce, or use light soya sauce

1 level teaspoon honey

3 teaspoons finely grated fresh ginger

Black pepper

 
4 salmon fillets
For the broth:

1litre, 1¾ pints, 4½ cups, fish stock

4 garlic cloves, finely chopped

2 lemongrass stalks (or use finely grated lemon zest from 1 lemon) - cut off the thinner top, leaving you with the "bulb" at the bottom, discard tough outer layer, cut off the bottom of the "bulb", halve it and slice very finely

2 tablespoons fish sauce

1 large carrot, cut into matchstick-sized batons

2 handfuls of green beans, trimmed and halved lengthways

12 tenderstem broccoli stalks (broccolini), sliced

200g, 7oz, soba or egg noodles
 

To serve:

2 tablespoons toasted sesame seeds

Fresh coriander, chopped

Optional: 1–2 red chillies, deseeded and chopped

1.    Mix together the ingredients for the marinade. Place the salmon in a dish and pour over the marinade. Turn to coat several times. Leave to the side.

2.    Toast the sesame seeds for about a minute in a dry frying pan over a medium heat – stirring frequently to make sure the seeds don't burn. Leave to the side.

3.    Add water to a large pot and get it boiling for the noodles. Place the fish stock in another pot and add the chopped garlic, lemon grass and fish sauce. Bring to a simmer.

4.    Cook the noodles according to the instructions on the packet, drain and refresh under fresh water.

5.    Add the salmon fillets and all of the marinade to the pot with the stock - cover the pot with a lid and simmer for 3 minutes. Add the vegetables to the pot, cover with the lid and continue to simmer for a further 2-3 minutes, until the salmon is cooked.

6.    Divide the noodles between four bowls. Carefully lift out the salmon and place one fillet on top of the noodles in each bowl. Give the vegetables a stir. Divide the vegetables and broth between the bowls and top each portion with toasted sesame seeds, chopped coriander and, if you are using it, chopped chilli.