Salmon And Quinoa Kedgeree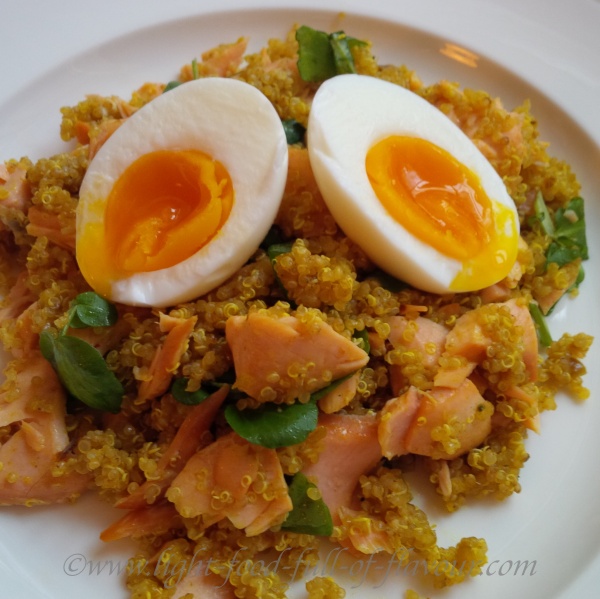 My salmon and quinoa kedgeree is not only incredibly tasty, it is also healthier and less calorific than a more traditional kedgeree.

I am using lightly smoked salmon fillets, which are easy to find in the U.K. You can replace them with plain salmon if you can't get hold of the lightly smoked version, or use the more traditional undyed smoked haddock.

Fish in general is good for you, but oily fish like salmon and mackerel contain much more, super-healthy omega-3 essential fats. You could also use smoked mackerel for this kedgeree – which doesn't need any further cooking.

I poach the lightly smoked salmon in plain water as it is tasty enough on its own. If you are using plain salmon, poach it in fish stock.

Refined white rice has been stripped of most nutrients and has a similar effect on your blood sugar as plain sugar has.

Quinoa, on the other hand, is a proper super food. It is rich in vitamins, minerals and essential fats, contains protein of a better quality than that of meat and also contains slow-releasing carbohydrates – which is all good news for your waistline!

 
Salmon and quinoa kedgeree for 4 people:

4 eggs, organic or free-range

250g, 9oz, 1¼ cup, quinoa

600ml, 20floz, 2¾ cups, water

1½ tablespoon coconut oil, or use olive oil

2 shallots, or a small yellow onion, finely chopped

1 heaped teaspoon ground coriander

1 heaped teaspoon ground cumin

1 level teaspoon turmeric

¼ teaspoon chilli flakes

Salt and pepper

400g lightly smoked salmon fillets

A handful of watercress, or rocket (arugula) leaves, roughly chopped

1.    Start by boiling the eggs – for about 6-7 minutes. Rinse under cold water to stop them cooking any further, peel and leave to the side.

2.    Rinse the quinoa under plenty of cold water. Get the water boiling in a pot, add the quinoa and stir. Lower the heat and simmer for 15 minutes. Add some water to another pot (for the salmon) and bring to simmer.

3.    Place the oil and the chopped onion in a frying pan over a low heat. Gently fry the onion for about 7 minutes, making sure the onion doesn't burn. Add the spices to the frying pan, season with salt and pepper and continue to cook for a further 3 minutes.

4.    While the onion is cooking, place the salmon in the pot with the simmering water and poach for about 6 minutes. If you are using plain salmon, poach for 8-10 minutes. Remove the salmon from the water and place on a plate. Once it is cool enough to handle, break it up into flakes.

5.    Once the quinoa has cooked, drain it in a colander and then tip it back into the pot. Stir in the spiced onions, the flaked salmon and chopped watercress (or rocket/arugula). Divide the salmon and quinoa kedgeree between 4 plates and top each portion with two egg halves.


Home Page > Fish And Seafood Recipes > Salmon And Quinoa Kedgeree