Spanish-Style Prawns In A Tomato Sherry Sauce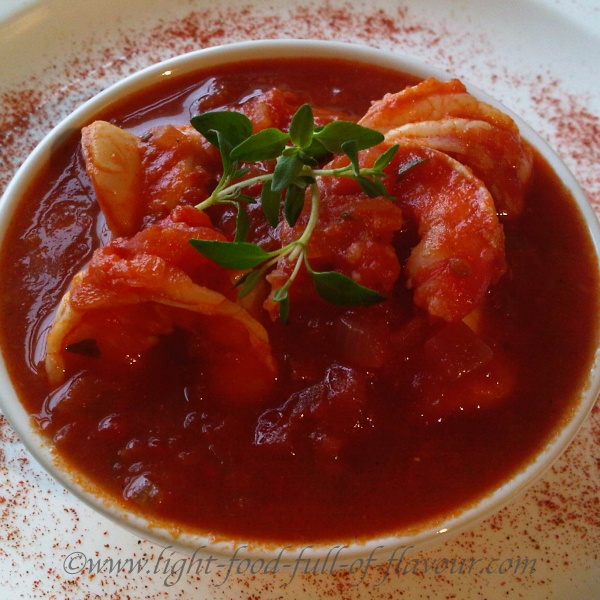 It's both quite easy and quick to make these Spanish-style prawns in a tomato sherry sauce. The smoky-hot tomato-sherry sauce is so delicious and would go just as well with fried scallops.

This dish can be served as a starter – or as part of a tapas-style meal. It can also be served as a main meal with for example rice or quinoa and steamed or boiled green vegetables (sugar snaps/green beans/broccoli).

If you are using prawns you can either fry the prawns separately and serve with the sauce, or simply cook the prawns in the sauce once it is ready. Scallops though, are better fried.

You can use dry white wine instead of dry sherry for the tomato sauce, but if using wine choose one that you are happy to drink as well.

 
Spanish-style prawns for 4 people:

1 tablespoon olive oil

½ medium-sized red onion, finely chopped

2 garlic cloves, crushed

1 large red chilli, deseeded and finely chopped

¼ - ½ teaspoon smoked sweet paprika (it is a dominant spice, but I like it and use ½ teaspoon in this recipe)

100ml, 3½floz, ½ cup, dry sherry (or use dry white wine)

400g, 14oz, 1¾ cups tin/can of chopped/crushed tomatoes

1 tablespoon sun-dried tomato puree/paste, or use plain tomato puree

1 teaspoon fresh thyme – leaves only – or use ½ teaspoon dried thyme

50ml, 2floz, ¼ cup water

Salt and pepper
 

400g, 14oz, raw shelled prawns (shrimps), or scallops

1.    Place the oil in a pot over a medium-high heat. Add the chopped onion and cook – stirring frequently – for about 5 minutes. Add the garlic, chilli and smoked sweet paprika to the pot and continue to cook for a further minute.

2.    Add the sherry to the pot, increase the heat and bring to a vigorous boil for 3-4 minutes, until the sherry has been reduced by about half.

3.    Add all the remaining ingredients, season with a bit of salt and pepper, stir and bring to a simmer. Leave the sauce to simmer – without a lid – for about 15 minutes, until it has thickened a bit. Taste to see if you need to add any more salt and/or pepper..

4.    If you are using prawns, season the prawns with some salt and pepper and either fry them in 1 tablespoon of oil for about 1½ minute – turning them over half-way through – or add them to the sauce and simmer for about 2-3 minutes. If you are using scallops, season the scallops with some salt and pepper and fry them in 1 tablespoon of oil for about 1 minute on each side – taking care not to over-cook them.