Spicy Sweet Potato Soup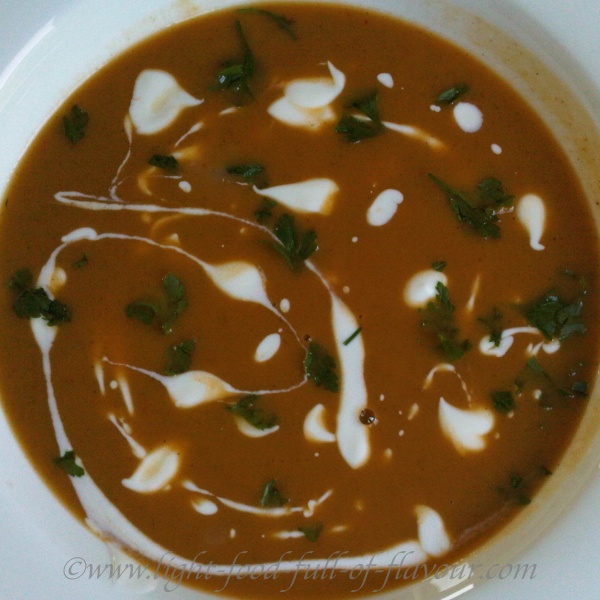 I am a big fan of soup and this is one of my favourites – a spicy sweet potato soup with chilli and butter beans. It is spectacularly tasty, very filling, highly nutritious and low in calories.

Sweet potatoes and butter beans are low GI food – and while all beans have a low GI, butter beans have one of the lowest calorie content of them all. Beans provide good amounts of both protein and fibre and these two nutrients help to keep you full for longer.

This spicy sweet potato soup is the kind of food I like to have in my freezer for times when I'm in a hurry or simply too tired to cook.

I either eat it as it is, or I add some cooked pieces of chicken which makes it an even more substantial meal.

PS! Sweet potatoes are very nutritious but they contain a lot of carbohydrates. While the carbohydrates in sweet potatoes are slow-releasing, it is best to only eat small amount of them if you are trying to lose weight (see Low GL Carbohydrates). You could use half sweet potatoes and half butternut squash (or pumpkin of some sort).


For 4 People:

1 red onion, chopped

1 red chilli, finely chopped

1 tablespoon ground coriander

1 tablespoon ground cumin

½ teaspoon ground cinnamon

1 tablespoon vegetable or groundnut oil

600g, 1lb 5oz, 4 cups, peeled and diced sweet potatoes

1 tablespoon tomato puree

1000ml, 1¾ 4½ cups, vegetable stock

400g, 14oz, 2 cups, tin of cooked butter beans, drained and rinsed

Salt and pepper

Natural yogurt

Chopped parsley

1. In a large pan, gently fry the onion, chilli and spices in the oil until the onion is soft – about 5 minutes.

2. Add the sweet potatoes, tomato puree and stock. Stir and bring to a boil, then reduce the heat and simmer covered for 15 minutes.

3. Add the butter beans and simmer for a further couple of minutes.

4. Let the soup cool down to room temperature. Either blend the soup with a stick blender in the pan or use an ordinary blender (depending on the size of your blender, you might have to do this in batches) and then return the soup to the pan. If you find that it is too thick, simply add some water. Season with salt and pepper.

5. Reheat the soup before serving and check the seasoning. Top each bowl of soup with a swirl of yogurt and some chopped parsley.